Volkswagen Arena, VfL Wolfsburg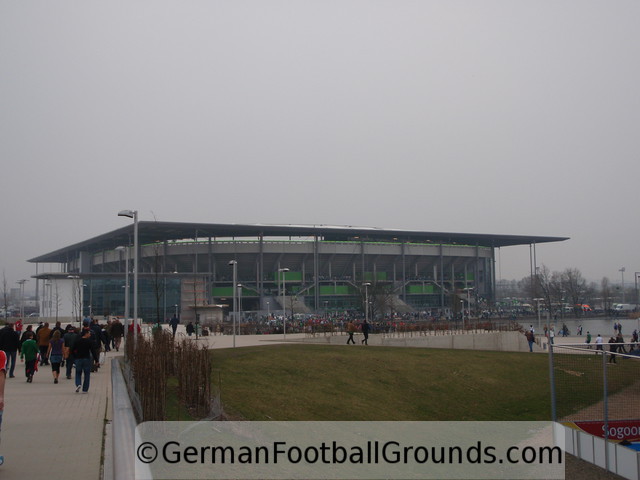 Overview
Club name: VfL Wolfsburg
Ground name: Volkswagen Arena
Year ground opened: 2002
Capacity: 30,000 (26,000 internationally)
Web Site: https://www.vfl-wolfsburg.de/
The Volkswagen Arena
The Volkswagen Arena, of course named after automobile manufacturer Volkswagen, was finished in 2002 and replaced the VfL Stadion. While the old stadium could accomodate 20,500 spectators, the new Volkswagen Arena has a capacity of 30,000, of which 8,000 places are standing only and the other 22,000 are seating space. The stadium is comparable to other new constructions like Augsburg and Hoffenheim, although it is, unlike the other two, two-tiered.
Wolfsburg's supporters are situtated in the north, the lower tier is standing space only. Visiting supporters are accomodated in the southeast corner. The upper tier is quite steep so even if you're situated in the top of the upper tier you've got a good view.
How To Get There...
By Car & Where To Park
If you come by car, the address of the Volkswagen Arena is "In den Allerwiesen 1, 38446 Wolfsburg, Deutschland".
There are a couple of parking lots around the stadium and you should have no trouble finding a parking spot, for example in the Allerpark (Allerpark 4, 38448 Wolfsburg, Deutschland), which is only a couple of minutes walk away from the stadium.
By Public Transportation
No need to use public transportation in Wolfsburg itself, the stadium is only about half a mile away from the main station - see walking directions.
Tickets allow you to travel to and from the stadium from 3 hours prior to kick-off until 3 hours after kick-off inside the Traffic Association Region Braunschweig (Verbundtarif Region Braunschweig (VRB)).
Walking directions
Leave the station, turn left and cross the Aller on the Stadtbrücke (city bridge) and you should already see the stadium.
Admission price
These are normal ticket prices for Bundesliga matches for price category 3, which most games belong to. Top games have higher prices and prices are, of course, subject to change.
Terrace:

Nordkurve (North lower) - 15 €

Seats:

Behind goal - 19 €
All four corners - 28 €
Main stand / opposite main stand - 44 €
Handicapped 6 €
Visually impaired 13 €
Last updated 17.01.2018
Average Attendance
After winning the Bundesliga in 2008/09, the stadium was regularly packed and about half of the games were sold out. Since then, interest has dwindled a bit and only a handful of games are sold out, mostly the games against the usual suspects Bayern and Dortmund. Still, the average attendace is quite high.
For nearly all games you should be able to get tickets through Wolfsburg's own ticket shop (German only).
Season 2016/17: 27,586 (92.0%)
Season 2015/16: 28,886 (96.3%)
Season 2014/15: 28,199 (94.0%)
Season 2013/14: 28,022 (93.4%)
Season 2012/13: 26,686 (89.0%)
Last updated 17.01.2018, Source: http://www.transfermarkt.de/
Photos
Volkswagen Arena Location Map
Comments