Brita-Arena, SV Wehen Wiesbaden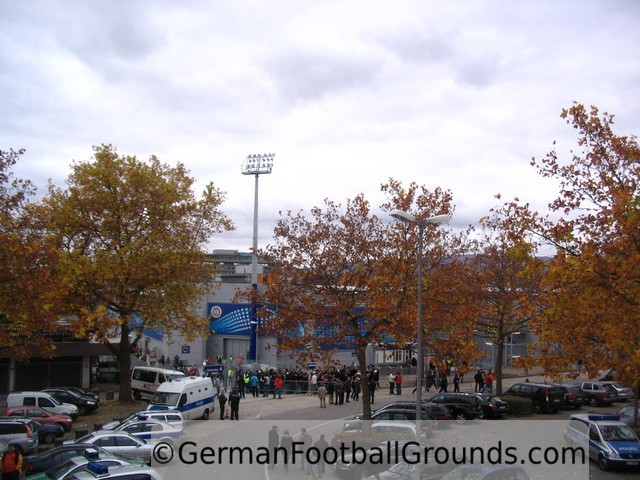 Overview
The Brita-Arena
The Brita-Arena was constructed in just four month in 2007 after SV Wehen Wiesbaden was promoted to the 2. Bundesliga. The quick construction was made possible by the use of steel tubes, which give the stadium a kind of makeshift feel and indeed initial plans just foresaw a usage time of five years. However, until today no further plans have been made for a new stadium in Wiesbaden, which means the Brita-Arena will be in use for at least a couple of years more.
The stadium is a pure football venue and offers room for 12,566 supporters. All stands are fully covered and of identical height. The north stand is fully terraced, the south stand is partially terraced, all other areas of the stadium are seating space. The east stand can be considered the main stand and it offers some excutive boxes on top. There is nothing remarkable about the stadium except some pillars which support the roof and which could be in your light of sight.
Home supporters are located in the north stand, visiting supporters are located in the south stand (terrace) and west stand (seats).
How To Get There...
By Car & Where To Park
If you come by car, the address of the Brita-Arena is "Berliner Straße 9, 65189 Wiesbaden".
Parking spaces located directly at the stadium are for permit holders only. The club recommends using the parking lot in Gartenfeldstraße, which is directly besides the main station. From there follow the walking directions below.
By Public Transportation
It does not get easier to reach a stadium in Germany than with the Brita-Arena. Exit the main station and turn to your right. Head straight on for about a thousand yards and you find yourself already at the ground.
Walking directions
Follow the walking directions from the main station listed above.
Admission price
These are normal ticket prices from the 2014/15 season, but you can expect these to be stable.
Standing places:

Category 3 (north stand) - 9 €

Seats:

Category 2 (west/east stand outer) - 15 €
Category 1 (west/east stand centre) - 20 €
Wheelchair - 6 €
Last updated 24.06.2015
Average Attendance
Even though the stadium is quite small, it is adequate both for the 3. Liga as well as for Wehen Wiesbaden's spell in the 2. Bundesliga in the seasons 2007/08 and 2008/09. The stadium bascially does not sell out.
Tickets can be bought via Wehen Wiesbaden's own ticket shop.
Season 2013/14: 3,291 (26.2%)
Season 2012/13: 3,378 (26.9%)
Season 2011/12: 3,500 (27.9%)
Season 2010/11: 4,160 (33.1%)
Last updated 20.02.2015, Source: http://www.transfermarkt.de/
Photos
Brita-Arena Location Map
Comments