Veltins-Arena, FC Schalke 04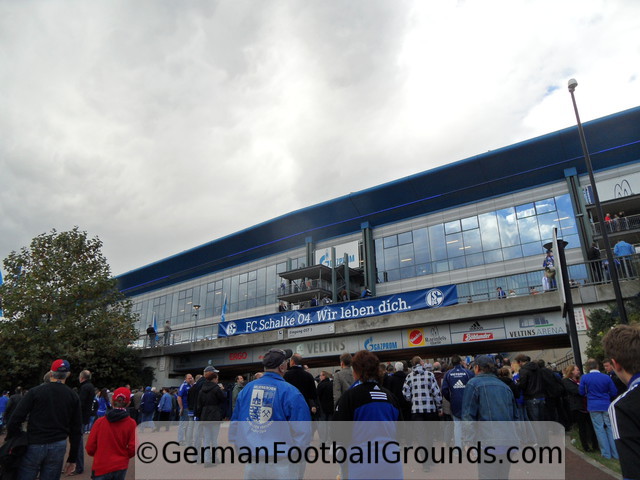 Overview
Club name: FC Schalke 04
Ground name: Veltins-Arena
Year ground opened: 2001
Capacity: 61,973 (54,442 internationally)
Web Site: http://www.schalke04.de/
The Veltins-Arena
The Veltins-Arena was one of the first 'new stadiums' in the Bundesliga, replacing Schalke's old ground, the Parkstadion. Unlike many other stadiums, the Parkstadion was actually not that old when it closed down, it was in use for merely 28 years from 1973 to 2001. The last game in the Parkstadion, by the way, tells a sad story for Schalke, which thought themselves Bundesliga champions for the first time only to see Bayern München score in Hamburg in injury time when most Schalke fans already thought Bayern's game ended with a loss for the bavarians. Head over to bundesligafanatic.com for details of this incredible season finale.
Anyway, the Veltins-Arena, nowadays named after German beer brewers Veltins, opened in 2001 as Arena AufSchalke, is a multi-functional stadium with a couple of distinctive features: a roof that can be fully closed, a slide-out pitch and a cube-style scoreboard suspended over the pitch, similar to those you can find in many indoors arenas. Apart from these features, the stadium is two-tiered with executive boxes separating the tier and both tiers fully surrounding the pitch. The stadium can accomodate 61,973 spectators during league matches and 53,994 spectators during international matches, where the 16,307 standing spaces in the north stand are converted to 8,600 seats. The only fly in the ointment with the Veltins-Arena is that due to the huge support of the roof, the view from high up in the upper tier is not exactly great.
Schalke's supporters are situtated in the north stand with standing space in the lower tier. Visiting supporters are located in the southeast corner, standing space in the lower tier, seating space in the upper tier.
How To Get There...
By Car & Where To Park
If you come by car, the address of the Veltins-Arena is "Arenaring 1, 45891 Gelsenkirchen, Deutschland".
It is recommended, however, that you do not follow your sat nav but the local traffic control and information system, which will guide to one of the parking lots around the stadium, which offer around 14,000 parking spots.
By Public Transportation
If you arrive at Gelsenkirchen main station, you can take tram 302, direction Gelsenkirchen Buer, for a ride to the stadium, which takes around 15 minutes. Note that the tram is located in the basement floor of the main station. Gelsenkrichen is part of the huge Transport Association Rhine-Ruhr (Verkehrsverbund Rhein-Ruhr (VRR)) and there are lot of way to reach it via public transport.
Tickets allow you to travel to and from the stadium inside the Transport Association Rhine-Ruhr (Verkehrsverbund Rhein-Ruhr (VRR)).
Walking directions
Admission price
These are normal ticket prices for Bundesliga matches, just for your orientation. Top games have slighty higher prices and prices are of course subject to change. As you can see, the categories are kind of complex, so just head over to Schalke's ticket shop and have a look for yourself.
Standing places:

North stand lower (standing space) - 15.50 €

Seats:

North & south stand upper rear - 26 €
North & south stand upper center rear & sides front - 31 €
East & west stand upper side rear - 31 €
South stand lower - 41.50 €
North & south stand upper center front - 41.50 €
East & west stand sides and upper rear center - 41.50 €
East & west stand center - 52 €
VIP seats - 275 €
Last updated 01.03.2014
Average Attendance
Schalke manages to pack the stadium to full capacity at least half of the time and even if a game is not sold out it's mostly a close call. For normal games you should, however, be able to get a ticket via Schalke's own ticket shop, where most matches are on general sale.
If a game is sold you might of course still try your luck on Viagogo but Schalke does not officially cooperate with Viagogo.
Season 2010/11: 61,401 (99.1%)
Season 2011/12: 61,218 (98.8%)
Season 2012/13: 61,171 (98.7%)
Last updated 01.03.2014, Source: http://www.transfermarkt.de/
Photos
Veltins-Arena Location Map
Comments