Hardtwaldstadion, SV Sandhausen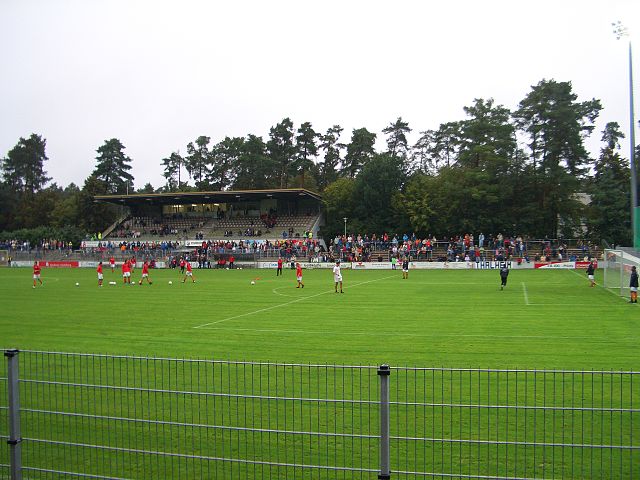 Source: KatB, Licence: GNU FDL
Overview
Club name: SV Sandhausen
Ground name: Hardtwaldstadion
Year ground opened: 1951
Capacity: 15,300
Web Site: http://www.svs1916.de/
The Hardtwaldstadion
The Hardtwaldstadion is a patchwork stadium, due to the fact that SV Sandhausen had to adapt to different formalities after first reaching the 3. Liga (then still called Regionalliga Süd) in 2007/08 and the 2. Bundesliga in 2012/13. The stadium features four distinct stands with open corners.
One of the short sides of the pitch features a small, covered terraced stand, on the opposite side thre is an all-seater stand, fully covered as well, with an interesting shaped roof and SVS spelled in white on the otherwise red seats. In front of the main stand there are still terraces, recently two smaller stands have been erected on both sides of the main stand, making the main stand consist of three smaller stands, one of the stands is terraced, the other offers some seats and excutive boxes. The most recent construction is the opposite main stand, offering both seats and terraces.
Home supporters are located in blocks A1, A2, A3, A4 and C1, visiting supporters are located in blocks B1, B2 and B3.
How To Get There...
By Car & Where To Park
If you come by car, the address of the Hardtwaldstadion is "Jahnstraße 1, 69207 Sandhausen".
Traffic control is in operation on match days, your best bet is to try to reach the stadium from the south, where there are designated parking spots - check the map on Sandhausen's directions page. Basically, you have to leave the motorway A5 at the exit 'Walldorf/Wiesloch', then head into direction 'Walldorf/Heidelberg/Sandhausen'. Turn left at the exit 'Sandhausen Süd' and towards parking lot 'Sandhäuser Höfe'.
By Public Transportation
From direction Kaiserslautern, Ludwigshafen, Mannheim and as well direction Karlsruhe, take S-Bahn S3 or S4 to station St. Ilgen-Sandhausen. There's a shuttle bus service during home games, otherwise it is not too far to walk (see walking directions below).
From direction Heidelberg, take bus 721 direction 'Wiesloch-Walldorf, Bf' directly to stop 'Sportzentrum', which is directly at the stadium.
Walking directions
The next train station is 'St Ilgen-Sandhausen', from there it is only about one and a half miles to the stadium. Exit the main station and turn right, then immediately left and head towards the city centre. After about half a mile, you reach a T-intersection, turn left onto Hauptstraße. Head straight on and after a bit less than a mile you will find the ground to your right.
Admission price
These are normal ticket prices, just for your orientation, ticket prices may vary.
Tickets can be obtained via SV Sandhausen's online ticket shop.
Standing places:

INWO stand (C1): 13 €
Main (north) stand (A3): 13 €
Volksbank Fan stand (A4): 13 €
Uncovered (A1 and A2): 11 €

Seats:

Haupttribüne: 35 €
INWO-Tribüne (C3-C6): 28 €
INWO-Tribüne (C2): 25 €
Sparkassentribüne: 20 €
Last updated 20.01.2015
Average Attendance
The Hardtwaldstadion is one of the smallest grounds in German professional football but as SV Sandhausen does not draw huge crowds, this should not bother you, in general do not expect any problems in procuring a ticket.
Tickets can be obtained in advance via SV Sandhausen's online ticket shop.
Season 2013/14: 5,570 (46.0%)
Season 2012/13: 5,156 (42.6%)
Season 2011/12: 2,163 (17.9%)*
Season 2010/11: 2,180 (18.1%)*
*: SV Sandhausen was playing in the 3. Liga
Last updated 20.01.2015, Source: http://www.transfermarkt.de/
Photos
Coming soon.
Hardtwaldstadion Location Map
Comments