RheinEnergieStadion, 1. FC Köln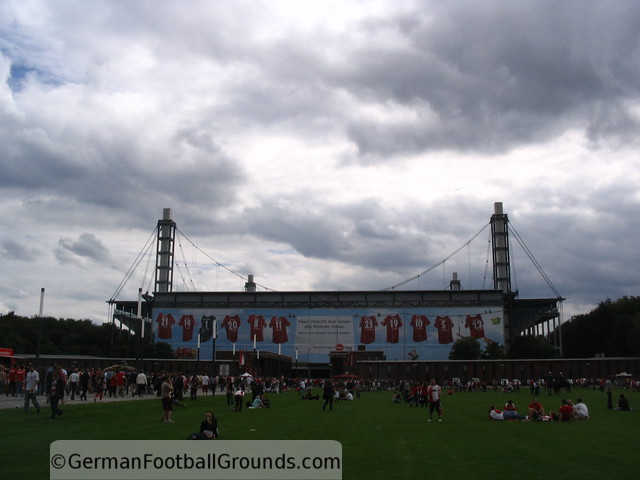 Overview
Club name: 1. FC Köln
Ground name: RheinEnergieStadion
Year ground opened: 2004
Capacity: 49,968 (46,253 internationally)
Web Site: http://www.fc-koeln.de/
The RheinEnergieStadion
The first stadium on the premises was built in the aftermath of World War I and was opened in 1923. Until the completion of the Olympiastadion in Berlin, the 'Sportpark Müngersdorf' was Germany's biggest sports complex. A first reconstruction took place in the seventies and allowed for 61,000 spectators. The second reconstruction, in time for the 2006 World Cup in Germany, was done in stages so that the stadium could be used with reduced capacity during constrution. In its current state, the stadium offers room for 49,968 spectators (41,825 seats, 8,173 terrace), during international games for 46,253 spectators.
The stadium is, unlike many others, rectangular, which gives it an interesting look, both from the outside and from the inside. The stadium is two-tiered and fully covered, the corners in the upper tier are covered with perspex, withholding the wind, in the lower tier the corners between the stands are connected. The lights are integrated into the throw, but nonetheless there are four towers, one in each corner, holding the roof construction. The odd thing with the stadium is that, due to its rectangular floor plan, you can actually sit behind the goal on the long sides if you are in the upper tier all to the side. Apart from that, a nice stadium with good view, especially from the upper tier.
Köln supporters are located in the lower tier of the south stand, blocks S1 to S6, visiting supporters are located in the north stand (blocks N6 and N16).
How To Get There...
By Car & Where To Park
If you come by car, the address of the RheinEnergieStadion is "Aachener Straße 999, 50933 Köln, Deutschland".
Using Köln's orbital motorway west (A1), take any one of the exits Köln-Bocklemünd, Köln-Lövenich or Köln-Weiden/Frechen and follow the signs towards the stadium. There are about 7,500 parking spots available at the stadium.
By Public Transportation
The stadium's stop is aptly named RheinEnergieSTADION and it is served by tram line 1.
From the main station, either walk to Neumarkt or take line 8 or 16 southbound. From Neumarkt, take line 1 (direction) Weiden. The trip from Neumarkt should take about 15 minutes.
Travel with public transportation is included in the match ticket if you already have it in your possession when traveling towards the stadium.
Walking directions
I do not recommend walking to the stadium as it is far away from the main station / city centre and a walk will take you probably an hour and half. If you absolutely have nothing better to do with your time, you can follow this route on Google Maps, though. ;)
Admission price
Ticket prices may vary from game to game, but should be similar to the prices below for the 2015/16 season.
Terrace:

Category X (blocks S1, S2, S3, S4, S5, S6 (south stand)) - 16 €

Seats:

Category I (blocks W14, W15, O4, O5, O14, O15) - 65 €
Category II (blocks W13-W16, O3, O6, O13-O16) - 58 €
Category III (blocks W13, W16, O13, O16) - 52 €
Category IV (blocks W12, W17, O12, O17) - 46 €
Category V (blocks W2, W7, W12, W17, O2, O7, O12, O17) - 42 €
Category VII (blocks W11, W18, O11, O18, N2, N5, N11-N14, S11-S16) - 37 €
Category VIII (blocks W11, W18, O11, O18, N2, N5, N11-N14, S11-S16) - 33 €
Category IX (blocks W1, W8, N1, O1, O8) - 29 €
Last updated 10.08.2015
Average Attendance
In the last years, Köln is frequently being either relegated from or being promoted to the 1. Bundesliga. Regardless of Köln playing in the top flight or a division lower, attendance is usually good. During 1. Bundesliga times, the stadium is usually sold out between half a dozen and a dozen games. Tickets normally can be bought via general sale from Köln's ticket shop. If you have difficulties to get tickets for a game, you can always try Viagogo, which is not an official partner of Köln.
Season 2014/15: 48,740 (97.5 %)
Season 2013/14: 46,283 (92.6 %)*
Season 2012/13: 40,774 (81.6 %)*
Season 2011/12: 47,719 (95.5 %)
*: Köln was playing in the 2. Bundesliga (2nd division)
Last updated 10.85.2015, Source: http://www.transfermarkt.de/
Photos
Coming soon.
RheinEnergieStadion Location Map
Comments