Holstein-Stadion, Holstein Kiel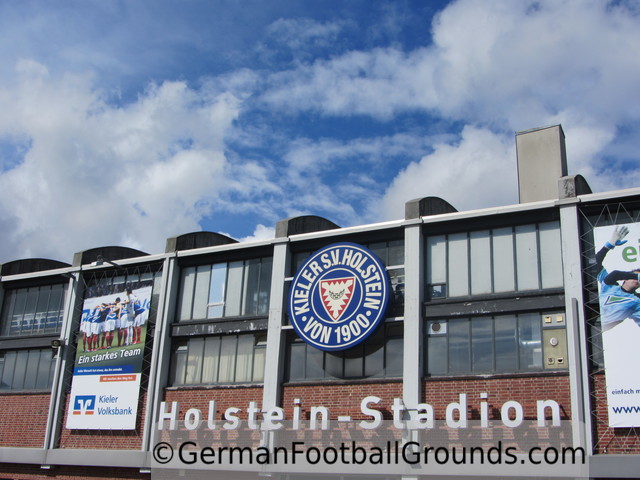 Overview
The Holstein-Stadion
The home of Holstein Kiel, actually named 'Kieler SV Holstein' or KSV Holstein for short, is the Holstein-Stadion. Kiel is playing in the stadium since 1911, which makes it one of the oldest stadia in Germany and the oldest one in Schleswig-Holstein, Germany's northernmost state, of which Kiel is the capital.
Even though the stadium has seen numerous renovations in the last decade, there is one very old part and you will easily identify it once you are at the stadium: the main stand dates back to 1950 and distinguishes itself easily from the two new stands, which are constructed with steel pipes. The main stand is covered, but there are some additions to the front and the side which are exposed to the elements. On remaining side is the sector for the visiting supporters, which does not feature a real stand but just some steps. Additionally, this section is still curved, even though the stadium does not feature a race outer track any more and does not have a roof, so if you're a visiting supporter, maybe better bring an umbrella.
Kiel's supporters are located in the west stand, visiting supporters on the other side of the ground in the east stand.
How To Get There...
By Car & Where To Park
If you come by car, the address of the Holstein-Stadion is "Westring 501, 24106 Kiel".
As with most stadiums, you will not be able to park directly at the stadium, though you should be able to find a parking in the vicinity, especially if you keep in mind to be quite early.
For games where big crowds are expected, there is supposedly a shuttle bus from the IKEA parking lot, which is located at Westring 1, 24114 Kiel, to the stadium. If have no experience with this, but you should be able to find information on this on Holstein Kiel's home page for relevant games.
By Public Transportation
There are two bus lines that can take you to the stadium.
Line 91 from the main station takes around 20 minutes and usually runs every half hour directly to the stadium (stop 'Am Stadion'). Take note that the service stops quite early, so you might not be able to get back to the station with this line, especially on weekday games (last departure 19:20). Luckily, there is another bus service, which stops a bit further away, but has more lines and better service times.
Lines 11, 501/502, 900/901 offer a better service, running every 10 minutes on weekdays during the day and every 15 minutes on evenings and Sundays until past midnight and taking around 15 minutes travel time. Take one of the lines towards stop Hansetraße, approximately 5 minutes away from the stadium. On leaving the bus, take a left onto Hanssenstraße and turn right into Projensdorfer Straße after about 300 yards. Follow Projensdorfer Straße for about 200 yards and turn left at the triangular intersection, from where you can already see the stadium.
Walking directions
The stadium is about 3 miles away from the main station, so unless you have some time on your hands, you better take the bus. If you decide on walking, here are directions for the most straightforward route:
When you exit the main station, head straight onto Ringstraße. The road curves a bit to the right and, after 900 yards turns into Hermann-Weigmann-Straße. Head straight on, cross Kronshagener Weg and turn left at the next corner, onto Eckernförder Straße. Follow this road until you reach Westring, then turn right. Westring basically runs straight for about one and a half miles, then makes a left turn. Keep on following Westring and you will reach the stadium after around 400 yards, you should be able to see it well before.
Admission price
Standing places:

Uncovered (blocks G, M, O) - 11 €
Covered (blocks H, I, J, L) - 12 €

Seats:

Uncovered (blocks F1, F2 and F3) - 19 €
Covered (blocks A to E, K2 and K3) - 26 €
Last updated 20.02.2015
Average Attendance
Holstein Kiel is playing in the 3. Liga in the second season in a row now, after a previous short spell in 2009/10 and a long time in lower leagues. Attendance is quite good and currently around 5,000 specatators are coming to the games. The stadiums has moer than double the capacity, so no worries in obtaining tickets.
Tickets can be bought via Kiel's own ticket shop.
Season 2013/14: 5,340 (46.9%)
Season 2012/13: 3,629 (31.9%)
Season 2011/12: 3,780 (33.2%)*
Season 2010/11: 2,446 (21.5%)*
*: Holstein Kiel was playing in the fourth division (Regionalliga Nord)
Last updated 20.02.2015, Source: http://www.transfermarkt.de/
Photos
Holstein-Stadion Location Map
Comments