Wildparkstadion, Karlsruher SC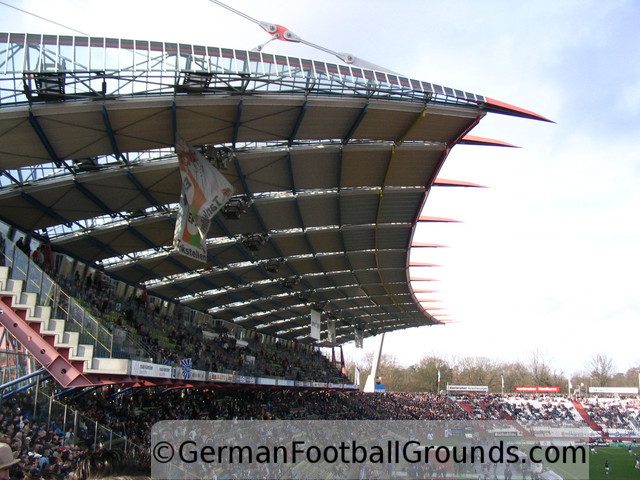 Overview
Club name: Karlsruher SC
Ground name: Wildparkstadion
Year ground opened: 1955
Capacity: 29,699
Web Site: http://www.ksc.de/
The Wildparkstadion
This ground description is removed while it is improved.
How To Get There...
By Car & Where To Park
If you come by car, the address of the Wildparkstadion is "Adenauerring 17, 76131 Karlsruhe".
There is a big parking lot across the street from the ground, apart from that you can try to find a parking spot along Adenauerring, the street that passes by the stadium. Another option is to use one of the many Park + Ride parking lots and take public transportation to the city centre and walk through the Schloßgarten park.
By Public Transportation
Public transportation only goes about half the way to the stadium, you can take basically any of the numerous S-Bahn and tram lines to the stops Durlacher Tor, Kronenplatz or Marktplatz, from there it is about 20 to 25 minutes walk through the Schlossgarten (see walking directions below).
If you are not inclined to walk through the Schloßgarten park, there is a shuttle bus service from station Mühlburger Tor (west of the city centre), which you can use freely if you already possess a match ticket. The shuttle bus runs from 2 hours prior to kick-off, but keep note that it does not operate after the match finishes!
Walking directions
As you have to walk part of the way anyway, why not take a stroll from the main station towards the city centre and continue on foot to the stadium? From the main station, head north for about a mile, following Ettlinger Straße (where the trams run in the centre of the road) and Karl-Friedrich-Straße and cross the Marktplatz. Turn right onto Zirkel, a circular road that runs around the Schloßgarten park. Follow Zirkel counter-clockwise for about three quarters of a mile, the stadium is then located to your right and it should come into view at some point. If in doubt, signs should point you to the stadium from the park.
Admission price
These are normal ticket prices, just for your orientation, ticket prices may vary.
Tickets can be obtained via Karlsruher SC's online ticket shop.
Standing places:

Opposite main stand (D1, D2): 12 €
Curve (A1, A4, E1, E4): 11 €

Seats:

Main stand gallery (G1-G4,G7-G10): 39 €
Main stand (F1-F10): 32 €
Main stand (F8): 17 €
Opposite main stand (B3-B10, C1-C10): 28 €
Curve (A2, A3, E2, E3): 15 €
Handicapped: 5 €
Last updated 18.01.2015
Average Attendance
With room for nearly 30,000 spectators, the Wildparkstadion is more than adequate for the 2. Bundesliga and, naturally, for the spell that Karlsruhe had in the 3. Liga in the 2012/13 season. Unless Karlsruhe plays again in the 1. Bundesliga, except maybe one or two sell-out crowds per season, so no worries in obtaining tickets.
Tickets can be obtained via Karlsruhe's online ticket shop.
Season 2013/14: 16,219 (54.6%)
Season 2012/13: 11,973 (40.3%)
Season 2011/12: 15,343 (51.7%)
Season 2010/11: 14,718 (49.6%)
Last updated 18.01.2015, Source: http://www.transfermarkt.de/
Photos
Wildparkstadion Location Map
Comments