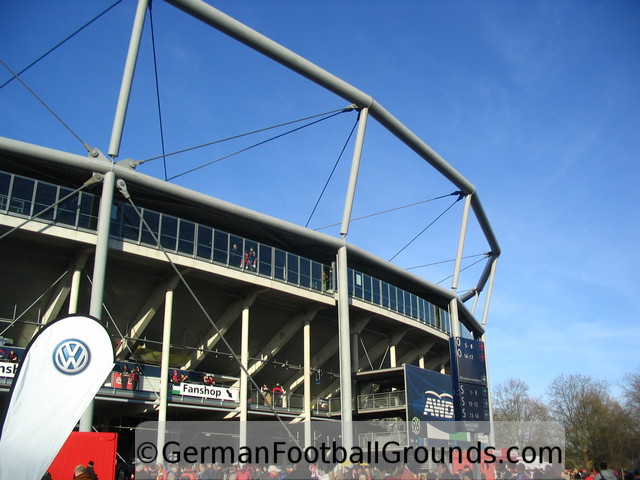 Overview
Club name: Hannover 96
Ground name: HDI-Arena
Year ground opened: 1954
Capacity: 49,0000 (45,000 internationally)
Web Site: http://www.hannover96.de/
The HDI-Arena
The HDI-Arena today has nothing in common with the stadium that was opened on the same place in 1954 as major reconstructions took place in time for the World Cup 2006 in Germany, during which six games were played in the stadium. The current stadium is two tiered and all places are fully roofed over. During domestic matches, the stadium can accomodate 49,000 spectators, during international matches 45,000 spectators.
The stadium is a pure football venue and at first glance nothing out of the ordinary as both tiers run continuously around the stadium. On looking closely, however, one can see that the west stand is gently inclined and the inclination increases towards the much steeper east stand.
Hannover's supporters are located in the lower tier of the north stand, blocks N1 to N8. Visiting supporters are located in the south west corner, standing space in the lower tier (blocks S6 to S9) and seating space in the upper tier (blocks S15 - S19).
How To Get There...
By Car & Where To Park
If you come by car, the address of the HDI-Arena is "Arthur-Menge-Ufer 7, 30169 Hannover, Deutschland".
As the stadium is located inside a park area, borderd on the east side by the lake 'Maschsee', there are no free parking spaces close to the stadium, so I recommend using one of the many park and ride parking lots you can use for free and which are well connected to the public transportation. If you're willing to shell out around 3 €, you can park your car at the Schützenplatz just across the stadium.
By Public Transportation
From the main station, take trams 3, 7 (both direction 'Wettbergen') or 9 (diretion 'Empelde') to stop 'Waterloo' if you will enter the stadium on the north or east side. If you enter on the south or west side or with visiting supporters, take line 3, 7, 17 (direction ('Wallensteinstr.') to stop 'Stadionbrücke'.
Match tickets allow you to travel to and from the stadium from 3 hours prior to kick-off until end of business day inside the Transport Association Hannover (Großraum-Verkehr Hannover (GVH)).
Walking directions
Another option is to just walk from the main station, the stadium is only about one and a half miles away, depending on which entrance you will use and it is an interesting walk through the inner city and the along the banks of the Leine.
Admission price
These are normal ticket prices for Bundesliga matches, just for your orientation. Top games have slighty higher prices and prices are of course subject to change.
Standing places:

North stand lower (standing space) - 14 €

Seats:

South stand (lower and upper) and north stand (upper) - 32 €
Catgeory V (north & south lower) - 23 €
West (opposite main) stand, upper (side) - 32 €
West (opposite main) stand, upper (center) - 32 €
West (opposite main) stand, lower (side) or upper (center) - 43 €
East (main) stand, lower or upper (side) - 43 €
East (main) stand, upper (center) - 48 €
East (main) stand, upper (middle) - 52 €
Last updated 16.02.2013
Average Attendance
Hannover is playing in the Bundesliga continuously since the 2002/03 and usually finishes midfield, still about half of the home games are regularly sold out. However, tickets usually are on general sale and you should be able to get a ticket via Hannover's own ticket shop.
Hannover 96 is officially partnering with Viagogo. If a game is sold you might try try your luck there.
Season 2010/11: 43,919 (89.6%)
Season 2011/12: 44,826 (91.5%)
Season 2012/13: 44,547 (90.9%)
Last updated 16.02.2014, Source: http://www.transfermarkt.de/
Photos
HDI-Arena Location Map
Comments