Imtech Arena, Hamburger SV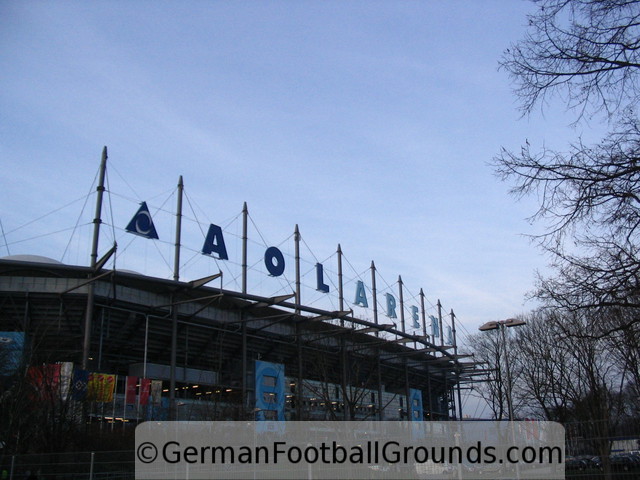 Overview
Club name: Hamburger SV
Ground name: Imtech Arena
Year ground opened: 1953
Capacity: 57,0000 (51,500 internationally)
Web Site: http://www.hsv.de/
The Imtech Arena
The previous stadion, named 'Volksparkstadion' after its location in the 'Volkspark' in Hamburg-Altona, was a typical stadium with race track and mostly open terraces. In 1998, it was decided to build a new 'arena-like' stadium in order to remove the race track and bring the stands closer to the pitch and to inspire a better atmosphere. The resulting stadium, nowadays called Imtech Arena, has nothing in common with the old stadium and is certified as a four star stadium by the UEFA and has hosted the UEFA Europa League final in 2010. Fun fact: due to its location in an entry lane to Hamburg airport, the reconstruction needed a special permit from the German Federal Aviation Office as approaching planes should usually not fly low over great gatherings of people.
Nowadays, Hamburg has a modern football stadium, which is two twiered, fully covered and holds up to 57,000 spectators (51,500 internationally). The seats show the club initials (HSV) and the crest of the club, a white and black diamond. The upper tier is quite steep, so even from the top you have a great view of the pitch.
Hamburg's supporters are situtated on the north stand, with standing space in the lower tier. Visiting supporters are located in the southwest corner.
How To Get There...
By Car & Where To Park
If you come by car, the address of the Imtech Arena is "Sylvesterallee 7, 22525 Hamburg, Deutschland".
I do not recommend to go to the stadium by car as the connection by public transportation (see below) is much better and free if you already have your match ticket. If you do come by car, follow the car-park routeing system once you are close to the stadium and note that the parking fee is 5 €. There are basically no free parking spaces in walkable distance to the stadium.
By Public Transportation
You can easily travel to the stadium using the S-Bahn from one of the three main light rail stations in Hamburg: Hauptbahnhof (main station), Dammtor or Altona:
Hamburg Hauptbahnhof: take S3 direction Pinneberg or S21 direction Elbgaustrasse to stop 'Stellingen - Imtech Arena'
Hamburg Dammtor: take S21 direction Elbgaustrasse to stop 'Stellingen - Imtech Arena'
Hamburg Altona: take S3 direction Pinneberg to stop 'Stellingen - Imtech Arena'
An alternative is to take the metro bus:
Bus no. 22 (S-Blankenese - U-Kellinghustenstraße), stop 'Schnackenburgallee'
Bus no. 180 (S-Holstenstraß - S-Stellingen - Imtech Arena), stop 'Am Volkspark'
Tickets allow you to travel to and from the stadium on the match day inside the '>Hamburg Traffic Association (Hamburger Verkehrsverbund (HVV)).
Walking directions
Coming soon.
Admission price
These are normal ticket prices for Bundesliga matches, just for your orientation. Hamburg categorizes games in different categories and prices can be significantly higher.
Standing places:
Seats:

Category V - 25 €
Catgeory IV - 34 €
Catgeory III - 39 €
Catgeory II - 52 €
Catgeory I - 63 €
Last updated 25.03.2014
Average Attendance
Hamburg has had a difficult time in the recent years, which shows a bit in the attendance, but about half the games are usually sold out and attendance is still high. For games in less demand, however, you should be able to get a ticket via Hamburg's own ticket shop.
Hamburg also runs its own ticket exchange, where season holders can sell a single match ticket to other fans, which you can check out here.
Season 2010/11: 54,446 (95.5%)
Season 2011/12: 53,436 (93.7%)
Season 2012/13: 52,917 (92.8%)
Last updated 25.03.2014, Source: http://www.transfermarkt.de/
Photos
Imtech Arena Location Map
Comments