Stadion der Freundschaft, Energie Cottbus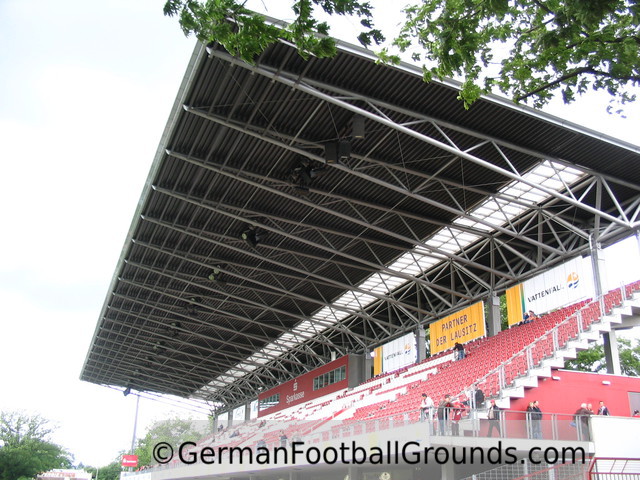 Overview
Club name: Energie Cottbus
Ground name: Stadion der Freundschaft
Year ground opened: 1930
Capacity: 22,528
Web Site: http://www.fcenergie.de/
The Stadion der Freundschaft
The Stadion der Freundschaft (translates to 'Stadium of Friendship') is a nice football stadium, especially since the old south curve was demolished and stand erected instead. It offers room for 22,528 spectators, with 10,949 covered seats. Of the 11,425 standing spaces, 7,795 are covered as well, the remainder is in the corners between the distinct stands is not covered, so maybe consider bringing an umbrella.
The dominating stand is the main stand, fully covered, which is quite high and two-tiered. Opposite the main stand is a smaller stand, which is also a covered all-seater stand, however only single-tiered. Behind the goals, in the north and south, are two stands comparable in size to the opposite main stand, however these stands are terraced. The main stand is the only cantilevered stand, on all other stands there are a couple of supporting pillars. The floodlights are partially integrated into the roof construction, however there are still four classical floodlights in the corners. All in all a quite tight ground.
Cottbus supporters are located in the north ('Nordwand', which means 'north wall') in blocks G, H and I and, to a lesser extent, also in the blocks F1, F2 and P. Visiting supporters are located in blocks N (uncovered) and O (covered). Covered visitor seating is provided in block S1.
How To Get There...
By Car & Where To Park
If you come by car, the address of the Stadion der Freundschaft is "Am Eliaspark 1, 03042 Cottbus".
There are only couple of parking spaces available at the stadium and these incur a fee, so this is not a good option. Either try to find a parking spot somewhere around the stadium or have a look at this map showing parking spaces and fees in Cottbus.
By Public Transportation
In my opinion, going to the stadium by public transportation is more of a hassle than just walking, as there are no stops directly at the stadium, regardless of tram or bus, thus you end up walking nearly as much as just walking the whole distance. Of course, this goes only if you come from the main station or the city centre, if your car is parked somewhere outside the city, public transportation might be your best option.
Exit the main station, walk to the left and take tram 3 from stop 'Stadtring/Hauptbahnhof' direction 'Sandow' and leave at the terminal station of the same name. The stadium is about half a mile away.
You can also take a bus from stop 'Hauptbahnhof/Parkplatz' directly outside the main station. Take bus 19 direction 'Branitz', for blocks A to J exit the bus at sto p'Georg-Schlesinger-Straße', for blocks U2 to Q leave at stop 'Vorpark'. Both stops are about half a mile away from the stadium.
Match tickets allow free travel to and from the stadium on match days using tram and bus.
Walking directions
The stadium is easily walkable from the main station, walking distance is about a mile and you should be able to reach it in fifteen minutes.
Directions do not come easier than these: exit the main station, turn left onto Stadtring and walk for about a mile and you will find yourself at the stadium.
Admission price
These are normal ticket prices for matches in the 3. Liga, just for your orientation. Prices for seating tickets scale with the rows, the further in fron the cheaper the ticket.
Standing places:

Uncovered (blocks F1, F2, Q) - 8 €
Covered (blocks G, H, I, P) - 10 €

Seats:

West stand (blocks A and E) - 12, 16, 20 €
West stand (blocks B and D) - 13, 18, 23 €
West stand (block C) - 15 €
East stand (blocks J and L)- 12, 16, 20 €
East stand (familiy enclosure, blocks U1, U3 and S2) - 13 €
East stand (familiy enclosure, block U2) - 15 €
Handicapped (east stand) - 3 €
Last updated 19.02.2014
Average Attendance
Cottbus is kind of a football diaspora, as even when Cottbus was playing in the 1. Bundesliga the stadium was rarely sold out. During Cottbus' time in the 2. Bundesliga, the stadium basically did not sell out and attaendance was at about 50%. After the relegation to the 3. Liga after the 2013/14 season, the average attendance dropped by about 2,000 spectators and is currently at about 33%, so no worries in obtaining tickets.Tickets can be bought via Energie Cottbus' ticket shop.
If a game should be sold out you might of course still try your luck on Viagogo.
Season 2013/14: 9,686 (43.0%)
Season 2012/13: 10,406 (46.2%)
Season 2011/12: 11,201 (49.7%)
Season 2010/11: 11,407 (50.6%)
Last updated 19.02.2014, Source: http://www.transfermarkt.de/
Photos
Stadion der Freundschaft Location Map
Comments