Sparkassen-Erzgebirgsstadion, Erzgebirge Aue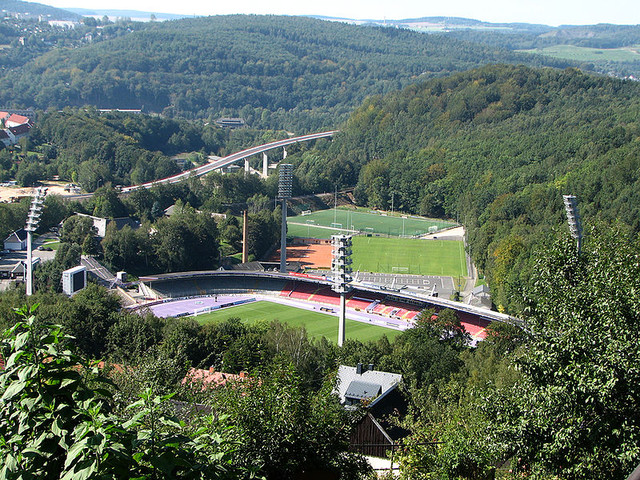 Source: DorNilo, Licence: CC-BY-SA-2.0-DE
Overview
Club name: Erzgebirge Aue
Ground name: Sparkassen-Erzgebirgsstadion
Year ground opened: 1928
Capacity: 15,690
Web Site: http://www.fc-erzgebirge.de/
The Sparkassen-Erzgebirgsstadion
The Erzgebirgsstadion is a classical football stadium with race outer track. The stadium is basically divided in two parts by two gates behing the goals, one in the south west corner, one in the north east corner. The northwestern part is basically the main stand and is fully covered, on the opposite side only the central blocks C, D and E are covered. The stadium features four impressive floodlights.
Aue's supporters are located in blocks A and B, opposite main stand, close to the gate in the southwest. Visiting supporters are located in blocks F1, F2 and G, on the opposite part of the same stand.
How To Get There...
By Car & Where To Park
If you come by car, the address of the Sparkassen-Erzgebirgsstadion is "Lößnitzer Straße 95, 08280 Aue".
As usual, there are basically no parking spaces at the stadium itself. However, Aue is a small town and crowds are normally not huge, so you should be able to find a parking space somewhere close and then just take a short walk to the stadium.
By Public Transportation
The greatest challenge on traveling to the ground by public transportation is getting to Aue in the first place as Aue is quite far off the beaten track. Nonetheless, if you happen to arrive by train, here are directions from the main station.
First of all, you can continue by train or bus to a stop directly outside the Erzgebirgsstadion. Busses leave outside the station, the corresponding stop is 'Aue, Stadion' and a single bus trip is priced at 1.60 € and takes less than 10 minutes.
Walking directions
If you like to walk, the stadium is only about a mile away from the main station. On leaving the station, turn right onto 'Am Bahnhof', then take the first left onto 'Lößnitzer Straße'. Just follow the road until you reach the stadium.
Admission price
These are normal ticket prices, just for your orientation.
Tickets can be obtained via Erzgebirge Aue's online ticket shop.
Standing places:
Seats:

Blocks H, I, O, P (opposite main outer): 11 €
Blocks J, N (opposite main inner): 15 €
Blocks C, E (opposite main central): 20 €
Blocks D, K, M (main central): 22 €
Last updated 20.11.2014
Average Attendance
The stadium is adequate for the 2. Bundesliga or 3. Liga. Aue does not usually draw huge crowds and in general there are no problems getting a ticket.
Tickets can be obtained via Erzgebirge Aue's online ticket shop.
Season 2013/14: 9,447 (60.2%)
Season 2012/13: 8,685 (55.4%)
Season 2011/12: 9,384 (59.8%)
Season 2010/11: 10,255 (65.4%)
Last updated 20.11.2014, Source: http://www.transfermarkt.de/
Photos
Coming soon.
Sparkassen-Erzgebirgsstadion Location Map
Comments