GAZi-Stadion auf der Waldau, Stuttgarter Kickers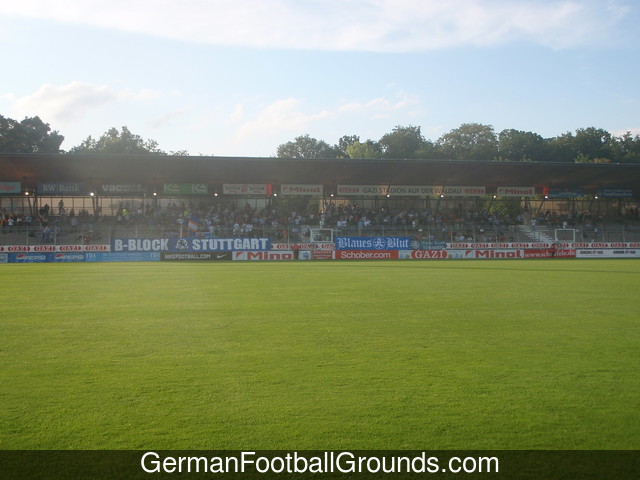 Overview
The GAZi-Stadion auf der Waldau
The GAZI-Stadion auf der Waldau, named after food brand GAZi, is located in the Stuttgart borough of Degerloch's quarter Waldau, directly besides the Fernsehturm (tv tower). The stadium is located at about 500 metres above sea level, making it one of the highest-located stadiums in Germany! The Stuttgarter Kickers have been playing their home matches in the stadium since 1905 - no other German football club has been playing its home games at the same place for this long, even though in the two seasons the Kickers played 1. Bundesliga, 1988/89 and 1991/92, the club played in the then so-called Neckarstadion, known today as Mercedes-Benz-Arena and home to VfB Stuttgart.
The GAZi-Stadion is a pure football venue and has been freshly renovated in the years 2014/15. The old main stand, which did not extend the whole length of the pitch, has been replaced with a new one, covering the whole pitch length, which gives the ground a more finished feeling. The new VIP area is located at the top of the new main stand, which figures as the main stand is the only stand with seating capacity. The opposite main stand is also covered, but much smaller and terrace only; unfortunately it has a very shallow incline, meaning you better not go below half height or your viewing angle will be greatly impaired by the fence. Both stands behind the goals are uncovered terraces, the one to the east is slightly smaller than the one to the west, behind which you can find a video screen.
Stuttgarter Kickers supporters are located in the opposite main stand, in block B. Visiting supporters can be found on the same stand to the east (block d, covered) and as well on the east stand (block f, uncovered).
How To Get There...
By Car & Where To Park
If you come by car, the address of the GAZi-Stadion auf der Waldau is "Guts-Muths-Weg 4, 70597 Stuttgart".
Your best way to the stadium is using motorway A8, exit Stuttgart-Degerloch / Möhringen (exit 52b), direction Stuttgart. Follow Bundesstraße 27 (B27) direction Stuttgart-Degerloch. In Degerloch turn onto "Jahnstraße", direction Fernsehturm / GAZi-Stadion (signposted). Follow the road for about 1,100 yards and you find the stadium on your right hand side.
There are around 1,200 parking spots around the stadium, with an additional 800 parking spots optionally created for games with higher attendance. Usually, at least if you arrive with some time to spare, you can find a parking spot to the north of the intersection Königsträßle / Jahnstraße (note: this not a road in Google Maps, but you are usually allowed to park there on match days). If you are out of luck there, try your luck somewhere around the stadium, either to the south or to the west; you should be able to find a parking sport in a reasonable distance.
By Public Transportation
There are two possible routes to the stadium, one for home and one for visiting supporters, as well as one more scenic route, which the locals like to take. Usually, you should be fine to travel on either way, regardless of which team you support, so here are all options.
Home supporters take subway U7 from main station or Charlottenplatz, direction "Ostfildern" to stop Waldau/GAZi-Stadion. From there it is only about two minutes to the southwest corner of the stadium.
Visiting supporters take subway U15 from main station or Charlottenplatz, direction "Ruhbank / Fernsehturm" or "Heumaden" to stop "Ruhbank / Fernsehturm". From there it is only about two minutes to the southeast corner of the stadium.
For the scenic route, which I strongly recommend, take subway U14 from the main station, direction "Heslach" to stop "Marienplatz". Exit the station and take the Zacke, Stuttgart's Rack Railway, which only goes uphill from here. While going uphill, your best bet is to sit with your back in the direction of travel and look out to the right site, where you have a great view over Stuttgart's inner city. Exit the Zacke at stop "Haigst", go back a couple of metres and turn right into "Auf dem Haigst". At the next intersection, cross the B27 / Neue Weinsteige and head up Königsträßle for about a third of a mile. At the traffic light to your right, cross Jahnstraße and turn left, heading into the direction of the tv tower. The stadium is just about a third of a mile in front of you and slightly to your right.
Admission Prices
These are normal prices from the 2015/16 season for box-office tickets.
Terrace:

Blocks A,B,C,G (home) - 11€
Blocks D, F (visitors) - 11€

Seats:

Blocks E1, E2, E6, E7 (main stand lateral) - 27€
Blocks E3, E5 (main stand central) - 32€
Blocks E2, E6 (handicapped, row 5 only) - 10€
Last updated 25.01.2016
Average Attendance
Stuttgarter Kickers usually draw in a crow of around 3,500 to 4,000 spectators, league games generally do not sell out.
Tickets can be bought via EasyTicket.de.
Season 2014/15: 4,420 (38.3%)
Season 2013/14: 3,969 (34.4%)
Season 2012/13: 3,897 (33.8%)
Season 2011/12: 3,626 (31.4%)*
Season 2010/11: 2,756 (23.9%)*
*: Stuttgarter Kickers was playing in the fourth division (Regionalliga Süd)
Last updated 25.01.2016, Source: http://www.transfermarkt.de/
Photos
GAZi-Stadion auf der Waldau Location Map
Feedback
If anything's wrong on this page, you have more information or you just want to drop me a line, e-mail me at roland@germanfootballgroundguide.com.