Millerntor-Stadion, FC St. Pauli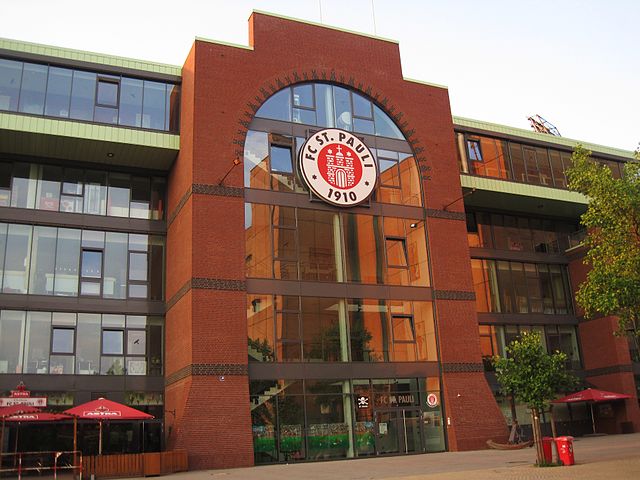 Source: Kalue, Licence: CC-BY-SA-3.0-DE
Overview
Club name: FC St. Pauli
Ground name: Millerntor-Stadion
Year ground opened: 1963
Capacity: 29,063
Web Site: http://www.fcstpauli.com/
The Millerntor-Stadion
St. Pauli's home ground is called Millerntor-Stadion, after a gate to the city called the Millerntor and it will probably keep this name for a long time as club memebers voted in 2007 that the name shall never be sold or changed in order to acquire money.
Although football was played at the ground's location already after the end of World War I, the first stadium was erected only in 1963. Originally offering room for 32,000 spectators, this number was reduced over the years due to rising security requirements and in the end, only around 20,000 spectators were allowed. For a long time, St. Pauli had plans for renovations or the construction of a new stadium and finally in 2006 major renovations began, which resulted in single stands being razed and rebuilt one after another
As of January 2015, three of the four stands have been rebuilt: the main stand in the west, the opposite main stand in the east and the south stand, home of the St. Pauli supporters. The face of the south stand is quite nice, a brick and glass construction unlike many new constructions. On the inside, the stadium has improved muchly, although construction is not yet finished and the north stand is missing completely at the moment (you can see the construction's progress on the Stadium News page). The three already finished stands are huge compared to their previous state and all are fully covered. The corneres are open, except the one between south stand and main stand, which houses, among others, the VIP area and a day-care facility!
St. Pauli supporters are located in the south stand, visiting supporters are located in the north stand towards the main stand.
How To Get There...
By Car & Where To Park
If you come by car, the address of the Millerntor-Stadion is "Harald-Stender-Platz 1, 20359 Hamburg". There are various parking lots or car parks near the stadium, have a look at this map for details. If you are early, you might get a spot on Glacischaussee, which is just east of Heiliggeistfeld and only about a minute walk from the stadium.
By Public Transportation
From the main station, take U-Bahn (underground) U3 towards Schlump-Barmbek and exit at stop St. Pauli, travelling time is around 10 minutes. You can take busses 36 and 112 towards St. Pauli as well, 36 leaves from the east of the main station, stop Hauptbahnhof/ZOB, 112 from the west of the main station, stop HBF/Steintorwall. From the U-Bahn / bus stop, it's about three minutes to the stadium
Walking directions
The stadium is less than 2 miles away from the main station and you can easily reach it by taking a walk through the city center. Exit the main station to the west and head onto Mönckebergstraße and take right after about half a mile onto Ballindamm, which turns into Jungfernstieg. Follow the road, which gradually curves left until you reach Sievekingplatz, then take a half right and cross Heiliggeistfeld towards the stadium.
Admission Prices
These are normal ticket prices, just for your orientation.
Tickets can be obtained via FC St. Pauli's online ticket shop.
Standing places:

South/north stand: 12€
Opposite main stand: 14€

Seats:

Blocks N2 / N3: 27€
Blocks G1 / G6: 27€
Blocks G2 / G5: 32€
Blocks S1 / S3: 32€
Blocks H1 / H9: 32€
Blocks G3 / G4: 37€
Blocks H2 / H8: 37€
Blocks H3 / H7: 42€
Handicapped: 10€
Last updated 13.01.2015
Average Attendance
The Millerntor-Stadion offers room for nearly 30,000 spectators, which is quite spacious for a ground that mostly sees games in the 2. Bundesliga, but still St. Pauli sells out a number of home games and has a good average attendance.
Tickets can be obtained via FC St. Pauli's online ticket shop. St. Pauli does not cooperate with Viagogo, but if a match is sold out you can try your luck there.
Season 2013/14: 28,369 (97.6%)
Season 2012/13: 24,201 (83.3%)
Season 2011/12: 23,220 (79.9%)
Season 2010/11: 24,350 (83.8%)*
*: FC St. Pauli was playing in the 1. Bundesliga
Last updated 13.01.2015, Source: http://www.transfermarkt.de/
Photos
Millerntor-Stadion Location Map
Feedback
If anything's wrong on this page, you have more information or you just want to drop me a line, e-mail me at roland@germanfootballgroundguide.com.