Opel Arena, 1. FSV Mainz 05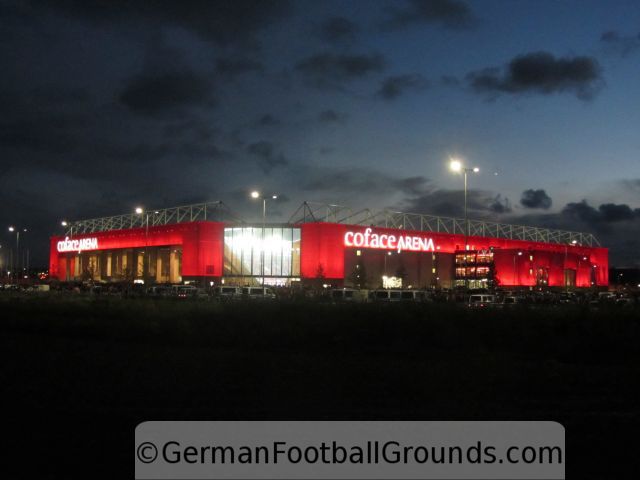 Overview
Club name: 1. FSV Mainz 05
Ground name: Opel Arena
Year ground opened: 2011
Capacity: 34,000
Web Site: http://www.mainz05.de/
The Opel Arena
After 82 years in the old trusty Bruchweg Stadion, Mainz move to their new ground, the Coface Arena, in time for the 2011/12 season. The Bruchwegstadion had become much to small, allowing only 18,000 spectators in. The Coface Arena nearly doubled that number to 34,034 spectators, at least for domestic games. Due to the huge standing room - 11,650 places for the home fans and 2,150 places for away fans - the capacity is greatly reduced for international games, dropping to only 26,600. The stadium's name has been changed to Opel Arena starting from the 2016/17 season. The stadium will keep the name until at least 2021.
The Coface Arena is a prime example of an out of town stadium, sitting outside the city on greenfield land, although the area looks even more rural than the distance of about 2 miles to the main station might suggest and in autumn and winter you better bring sturdy shoes. Anyway, you at least get a look of the stadium, regardless of the direction you are arriving from.
Compared to many other new stadiums (Augsburg, Hoffenheim, Wolfsburg), Mainz took a different approach and built a rectangular stadium with open corners. At one end is the "Lotto Rheinland-Pfalz-Tribüne" housing the core of the home fans, thusly the whole stand is, at least for domestic games, standing room; its seats are arranged to show the crest of Mainz 05. The "entega-Tribüne" on the oppposite end offers to seating sectors for home fans and the sectors for the away fans with 1.100 seats and standing room for 2,150 fans. One one side of the pitch is the "ORGENTEC-Tribüne", in which the seats are arranged to spell "MAINZ" in white letters against the usual red. Opposite is the "coface-Haupttribüne" (main stand), which features executive boxes on top. Two video screens are located in the northwest and southeast corners.
How To Get There...
By Car & Where To Park
If you come by car, there are different options, by far the best one is to park at the University. The address for your navigation system is "Ackermannweg, 55128 Mainz" and there are stewards located there to guide you to the exact parking space. The distance to the ground varies from where exactly you will be parking your car, but it shouldn't be more than a mile, thus making for an easy stroll to the ground.
By Public Transportation
If you have the time, I'd always recommend public transportation. The good thing is, in Mainz as in many other German cities, the public transportation is included in the ticket, in Mainz your ticket is valid from 5 hours prior to kick-off until end of the business day in the tarif zone Main-Wiesbaden (65) of the RMV and the complete tarif zone of the RNN. Since the season 2016/17, you can even use public transportation for free with print@home tickets. Anyway, from Mainz Hauptbahnhof you can take shuttle busses to the ground or you can take any of the busses going to "Ackermannweg/FH" or "Fachhochschule", mainly busses 68 and 69 (see the bus and tram line map).
Admission Prices
These are normal ticket prices, just for your orientation. Top games may have different prices and prices are of course subject to change.
Standing places

Lotto Rheinland-Pfalz-Tribüne - Blocks P, Q, R, S: 13,50 €

Seats:

Entega Tribüne - Block F: 27 €, Block G 29 €
Orgentec Tribüne - Blocks K, O (Support Area): 20 €, Block O: 37 €, Blocks L, N: 42 €, Block M: 45 €
coface-Tribüne - Blocks A, E: 39€, Blocks B, D: 60 €
Last updated 05.11.2016
Average Attendance
The stadion has been packed to full capacity a number of times each season, usually at least the games against Frankfurt (Rhine Main Derby), Schalke, Dortmund and Bayern are sold out. For normal games, you can get tickets via Mainz' online ticket shop and you do not need to be a member.
Season 2015/16: 31,049 (91.3%)
Season 2014/15: 30,940 (91.0%)
Season 2013/14: 30,984 (91.1%)
Season 2012/13: 31,156 (91.6%)
Season 2011/12: 33,074 (97.3%)
Last updated 05.11.2016, Source: http://www.transfermarkt.de/
Photos
Opel Arena Location Map
Feedback
If anything's wrong on this page, you have more information or you just want to drop me a line, e-mail me at roland@germanfootballgroundguide.com.