MDCC-Arena, 1. FC Magdeburg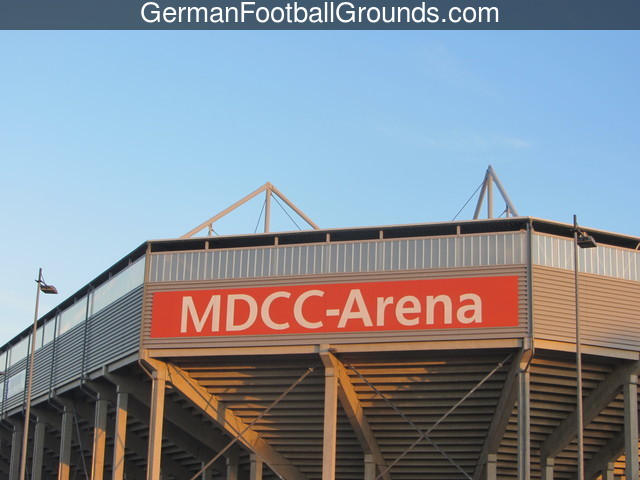 Overview
Club name: 1. FC Magdeburg
Ground name: MDCC-Arena
Year ground opened: 2006
Capacity: 27,250 (25,000 internationally)
Web Site: http://www.fc-magdeburg.de/
The MDCC-Arena
The MDCC-Arena, named after local telcommunications provider MDCC, is currently the third largest stadium in the 3. Liga behind Dresden and Rostock. It is a pure football venue that allows room for 27,250 spectators, of which 4,500 are terraces. The stadium, opened in 2006, is nothing spectacular, as is often the case with new stadiums.
The stadium is single tiered, fully covered and has a distinct arena flavour due to the corners being closed. The main stand distinguishes itself from the other stand due to the executive boxes taking up quite a lot of space in the its centre. The floodlights are integrated into the roof construction. There are two large video screens over the stands at the shorter side of the pitch.
Mageburg supporters are located in the north stand, visiting supporters are located in the southeast corner.
How To Get There...
By Car & Where To Park
If you come by car, the address of the MDCC-Arena is "Heinz-Krügel-Platz 1, 39114 Magdeburg, Deutschland".
There are different parking lots at the MDCC-Arena where you have to pay on match days. One parking lot is at Gübser Weg, the other at Friedrich-Ebert-Straße 68.
By Public Transportation
Exit the main station towards the city centre, take a left and then a right at next intersection. At tram stop Allee-Center, take tram line 5, direction Messegelände/Elbauenpark and leave at stop Berliner Allee/Arenen (third stop).
A single ride for up to three stops is priced at 1.4€, a single ride valid for more stops is priced at 2€. A day ticket is priced at 4.6€, a group day ticket for up to 5 persons is priced at 12.5€.
Walking directions
The stadium is about 2 miles away from the main station so you can easily take a walk. If you decide on talking a walk through the old town, just head northward towards Ernst-Reuter-Allee and follow the directions from the main station below.
Exit the main station towards the city centre and take a left on Otto-von-Guericke-Straße, then take a right onto Ernst-Reuter-Alle. Follow the road across the bridges, crossing the Elbe, Zollelbe and Alte Elbe. After the thrid bridge, head straight onto Brückstraße. Pass the GETEC-Arena and take a right afterwards, you will soon find the stadium on your left hand side.
Admission Prices
These are normal prices from the 2015/16 season for box-office tickets. Tickets bought via advance booking are 1€ cheaper.
Terrace:

Blocks 1, 2 - 13.5€
Block 14 (visitors) - 13.5€

Seats:

Blocks 3, 4, 5, 6 (north stand) - 14.5€
Block 15, 16, 17, 18 (visitors, south stand) - 14.5€
Blocks 7, 19 (northwest/southeast corner) - 16.5€
Blocks 9, 11, 21, 23 (main/opposite main stand side) - 24.5€
Block 10 (opposite main centre)- 26.5€
Blocks 20, 21, 22, 23, 24 (main stand) - 20.5€
Blocks 20, 21, 22, 23, 24 (main stand, handicapped) - 12€
Last updated 04.08.2015
Average Attendance
Magdeburg is playing in the 3. Liga for the first time in the season 2015/16 and the attendance will me much higher than previously, but as the stadium is huge do not expect sell-out crowds.
Tickets usually are on general sale and can be bought via Magdeburg's own ticket shop.
Season 2014/15: 8,578 (31.5%)*
Season 2013/14: 5,514 (20.2%)*
Season 2012/13: 5,203 (19.1%)*
Season 2011/12: 4,063 (14.9%)*
*: Magdeburg was playing in the fourth division (Regionalliga Nord / Regionalliga Nordost)
Last updated 04.08.2015, Source: http://www.transfermarkt.de/
Photos
MDCC-Arena Location Map
Feedback
If anything's wrong on this page, you have more information or you just want to drop me a line, e-mail me at roland@germanfootballgroundguide.com.