FRIMO Stadion, Sportfreunde Lotte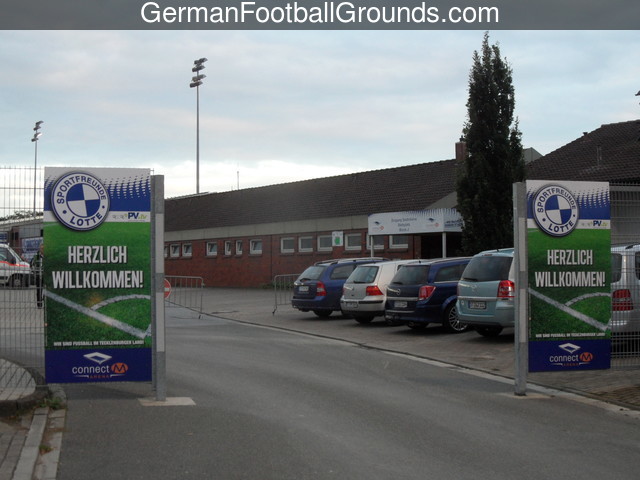 Overview
Club name: Sportfreunde Lotte
Ground name: FRIMO Stadion
Year ground opened: 1986
Capacity: 7,474
Web Site: http://www.sf-lotte.de/
The FRIMO Stadion
The FRIMO Stadion, as the ground is currently called, is quite unique as it is the only ground in the first three tiers of German football that has only three stands. The main stand is situated in the north and is a covered all-seater stand that includes a kids area and seating for away fans. The stand on the opposite side is covered as well and offers terraces only, visiting supporters are located in this stand as well. The third stand is located in the west, on the short side of the pitch, and contains the changing rooms. If offers uncovered terraces in the front and covered seats in the back. Rumour has it that a temporary stand will be constructed in the east in order to reach a capacity of 10,000 spectators, replacing the wall of advertisements currently in place.
Eight classical floodlight pylons with eight lamps each illuminate the stadium, a further eight floodlights are located on the roofs on the long side of the pitch. The "missing" stand provides a clock and scoreboard amid some advertising. Noteworthy is the location of the stadium itself: the center of the pitch is only about 500 metres away from the Autobahnkreuz Lotte-Osnabrück, where the motorways A1 and A30 intersect.
All in all, the stadium can accomodate 7,474 specators; 5,104 places are standing space, 2,310 are seats and 60 spaces are reserved for kids.
How To Get There...
By Car & Where To Park
If you come by car, the address of the FRIMO Stadion is "Jahnstraße 8,49504 Lotte".
There are a couple of parking lots around the stadium which can be used for a flat fee of 2 € per day on match days.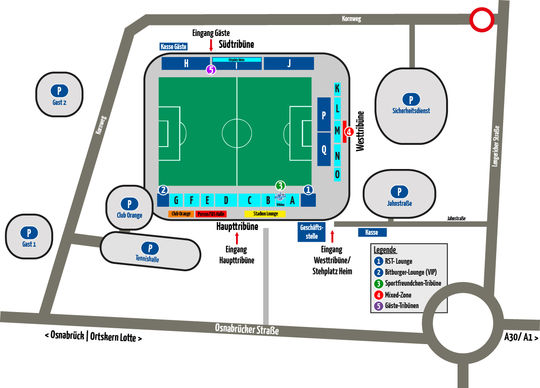 By Public Transportation
Lotte itself has no train station, so you have to rely on the bus to reach the stadium. I recommend going to Osnabrück main station an then taking RegioBus R31, direction "Lotte Kindergarten", to stop "L 501 (Lotte)". Journey time is around 30 minutes and the single ride costs 3,70 €. Once you have exited the bus, turn back in the direction the bus came from and head down the next street to the right (Jahnstraße), which takes you directly to the stadium.
You can use the following links to plan your trip using the Rhein-Ruhr Traffic Associtation's journey planner:
Admission Prices
These are normal ticket prices, just for your orientation.
I am not aware of any online ticketing.
Terraces:

Main stand: 10€
South stand: 10€

Seats:

Main stand: 22€
West stand: 20€
Family stand*: Adults 15€, kids 5€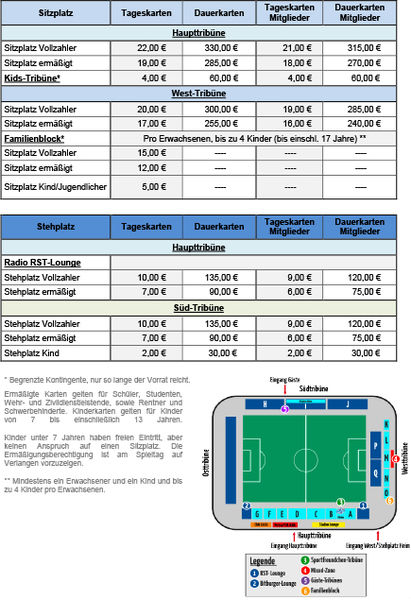 *: At least one adult and one kid, up to 4 kids per adult
Last updated 25.06.2016
Average Attendance
Sportfreunde Lotte play their first ever season in the third tier of German football, and it will be interesting to see how many spectators they attract. The highest attendance will probably be reached in the matches against Osnabrück, Münster and Paderborn.
Season 2015/16: 874 (11.7%)
Season 2014/15: 768 (10.3%)
Season 2013/14: 853 (11.4%)
Season 2012/13: 842 (11.3%)
All data is for the Regionalliga West (4th division)
Last updated 25.07.2016, Source: http://www.transfermarkt.de/
Photos
FRIMO Stadion Location Map
Comments