BayArena, Bayer 04 Leverkusen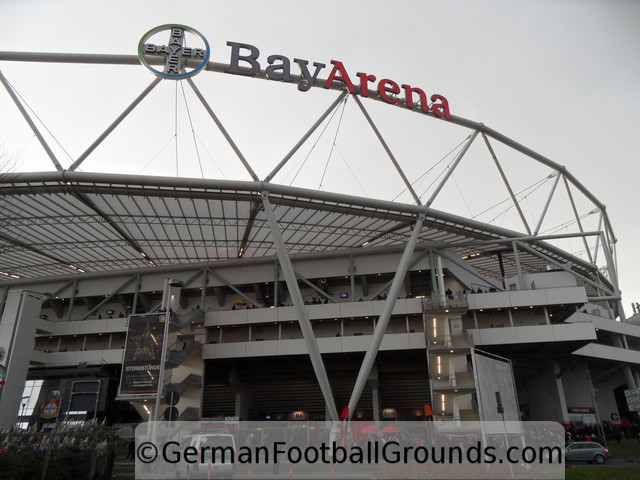 Overview
Club name: Bayer 04 Leverkusen
Ground name: BayArena
Year ground opened: 1958
Capacity: 30,210 (28,000 internationally)
Web Site: http://www.bayer04.de/
The BayArena
The BayArena is one of the smallest stadiums in the Bundesliga, accomodating just 30,210 spectators, which is a bit surprising since Leverkusen is one of the Bundesliga's top teams and is playing regularly in the Champion's League. The surprises don't end there as the BayArena is in general a quite unusual stadium, which you will notice already from the outside, as the huge polycarbonate roof not only protects the spectators once they are inside but already well in advance due to its size being much bigger than the stadium itself.
On the inside, the BayArena is a pure football venue with a regular lower tier and a tiny upper tier. The south stand is a sight to see as a couple of seats and handicapped spaces are backed by a huge glass-fronted building, which encompasses an underground car park, executive boxes and the club office. The BayArena was Europe's first stadium with a McDonald's inside but in the course of the stadium's extension in 2008, McDonald's is now located outside the stadium on the opposite side of Bismarckstraße.
Leverkusen's supporters are situtated in the north east corner, the lower tier is standing space only. Visiting supporters are accomodated in the southwest corner (lower tier standing, upper tier seating).
How To Get There...
By Car & Where To Park
If you come by car, the address of the BayArena is "Bismarckstraße 122, 51373 Leverkusen, Deutschland". However, the area around the stadium is a resdiential area and closed down massively on matchdays, so don't even try to park close to the stadium.
I recommend the parking lot "Kurtekotten" (address "Edith-Weyde-Straße, 51373 Leverkusen, Deuschland"). From there, you can take a free shuttle bus to the stadium.
By Public Transportation
The S-Bahn station closest to the stadium is Leverkusen-Mitte. From there it is less than a mile to the stadium, just follow the signs or see the walking directions below. If you prefer to take a bus, line 203 will bring you to the stadium.
Tickets allow you to travel to and from the stadium from 3 hours prior to kick-off until end of business day inside the Traffic Association Rhine-Sieg (Verkehrsverbund Rhein-Sieg (VRS)).
Walking directions
The stadium is located about a mile away from the station Leverkusen-Mitte and walking is straightforward. Either follow other supporters or the following directions. ;)
Exit the station to the east, not in the direction of the city centre. When you come out the underground walkway, do not take an immediate left but head straight on and turn left onto Friedlieb-Ferdinand-Runge-Straße. Cross Rathenaustraße and head into the Stadtpark. There are small walkways, as usual in a park so basically, just keep heading in a northeasterly direction, where you should either see the stadium or the floodlights. You will come to a stream which you can cross immediately, then follow it, having it on your right hand shoulder.
If anything is unclear, just have a look at the route on Google Maps.
Admission Prices
These are normal ticket prices for Bundesliga matches, for orientation only as they can of course change more or less quickly.
Leverkusen uses a scheme with three classes of games, A, B and C, where games from A are the most expensive. The price difference rises with the seat category, e.g. a seat in the most expensive category I for an A game costs more than double the amount than for a C game! Prices for international matches are much higher than for Bundesliga matches.
The following prices are game B prices from Season 2015/16. Have a look at the ticketing map for more information.
Standing places:

Category VI (standing space northeast) - 15€

Seats:

Category V (north upper & southeast/southwest upper) - 22€
Catgeory IV (north & south lower) - 29€
Catgeory III (east (opposite main) upper middle, lower outer & main stand upper outer) - 35€
Catgeory II (east (opposite main) lower & west (main stand) upper middle, lower outer) - 41€
Catgeory I (west (main stand) lower) - 46€
Last updated 20.10.2015
Average Attendance
Bayer has been quite successful domestically in the recent years and the stadium is regularly sold out. However, tickets usually are on general sale and you should be able to get a ticket via Bayer's own ticket shop.
If a game is sold you might of course still try your luck on Viagogo but Leverkusen does not officially cooperate with Viagogo.
Season 2014/15: 29,311 (97.0%)
Season 2013/14: 28,423 (94.1%)
Season 2012/13: 28,120 (93.1%)
Season 2011/12: 28,331 (93.8%)
Season 2010/11: 28,633 (94.8%)
Last updated 20.10.2015, Source: http://www.transfermarkt.de/
Photos
BayArena Location Map
Feedback
If anything's wrong on this page, you have more information or you just want to drop me a line, e-mail me at roland@germanfootballgroundguide.com.