Audi-Sportpark, FC Ingolstadt 04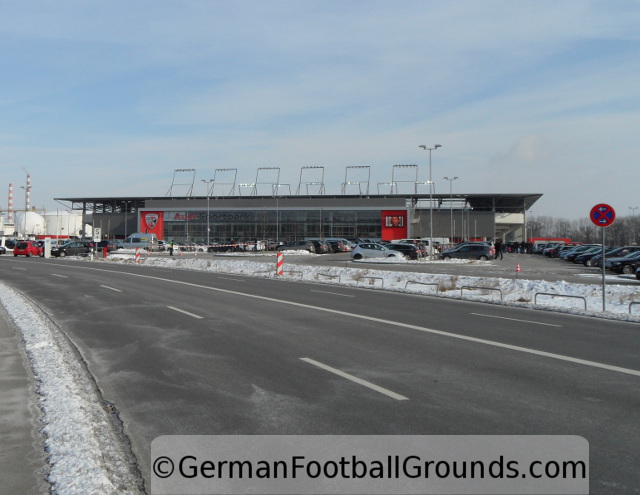 Overview
Club name: FC Ingolstadt 04
Ground name: Audi-Sportpark
Year ground opened: 2010
Capacity: 15,445 (12,000 internationally)
Web Site: http://www.fcingolstadt.de/
The Audi-Sportpark
The Audi-Sportpark is a quite typical new ground without too much flair. Its location, outside of the city on an area that used to belong to a refinery, does not add much flair as well. The rectangular layout, however, is a refresh from some other new grounds.
On the inside, the ground is rectangular as well, the stand run continuously around the pitch and are of equal height around the whole stadium. The stadium is fully covered and thanks to its recent construction, the roof is self-supporting, meaning no pillars obstruct the view. On the north and south side, behind the goals, are some terraces, apart from these two areas, the stadium consists solely of seating space. The main stand distinguishes itself from the opposite side by a row of executive boxes on top.
Ingolstadt's supporters are located on the south terrace, visiting supporters are located on the north terrace. Usually, there is only half of the north terrace reserved for visiting supporters.
How To Get There...
By Car & Where To Park
If you come by car, the address of the Audi-Sportpark is "Am Sportpark 1, 85053 Ingolstadt".
A welcome change is that there are plenty of parking spaces around the stadium so you should not have problems finding a parking spot either close to the stadium or across Manchinger Straße, resulting in a couple of minutes of walking at most.
By Public Transportation
From Ingolstadt main station, take busses 10,11 or 16 towards the city center and exit at station "Brückenkopf". Bus 202 is a special bus route going to the Audi-Sportpark. Note that you can use your match ticket on match days for travelling with the buses of the Ingolstadt Traffic Association.
Walking directions
The Audi-Sportpark is located well away from the main station, resulting in a walk of nearly three miles. As the city center is located in the opposite direction from the main station, you can add a mile more if you start from there.
Leave the main station towards the east, turn right and take the next left ("Geisenfelder Straße"). At the end of the street, turn right onto Asamstraße and take the next left onto Erletstraße. When the road bisects, take a right onto Lindenweg, taking the frist right onto Salierstraße. Follow Salierstraße, which makes an almost right angeled left turn before crossing the motorway. When you reach Manchinger Straße, where a McDonald's is across the crossroads, take a right turn. After a little less than a mile, turn left into Eriagstraße, you should already see a parking lot and the stadium behind it when you turn the corner.
From the city center, it obviously depends on where you are, but basically you can walk south towards the Danube and cross the river using the Donausteg, between Neues Schloss and Klenzepark. Head straight through Klenzepark and when you reach a circular space, turn left and head straight on between Saturn Arena to the left and a parking lot to your right. Continue onto Manchinger Straße and follow it for about one and a half miles straight, then turn left onto Eriagstraße, you can already see the stadium upon turning the corner.
Admission Prices
These are normal match-day prices, just for your orientation. Tickets obtained through advance sale or online sale are a bit cheaper, about 2€ to 4€.
Tickets can be obtained via FC Ingolstadt's online ticket shop.
Standing places:
Seats:

Blocks A, D, E, F, J, K, R, T, X, W, I, (corners): 22€
Blocks L, M, N, O, P, Q (opposite main): 25€
Blocks B, C (main stand sides): 28€
Blocks R, S (family): 18€
Last updated 26.11.2014
Average Attendance
The Audi-Sportpark is sized more than adequately for a second division venue and you should have no trouble getting tickets.
Season 2013/14: 6,785 (43.9%)
Season 2012/13: 7,428 (48.1%)
Season 2011/12: 7,478 (48.4%)
Season 2010/11: 8,078 (52.3%)
Last updated 26.11.2014, Source: http://www.transfermarkt.de/
Photos
Audi-Sportpark Location Map
Feedback
If anything's wrong on this page, you have more information or you just want to drop me a line, e-mail me at roland@germanfootballgroundguide.com.