Voith-Arena, 1. FC Heidenheim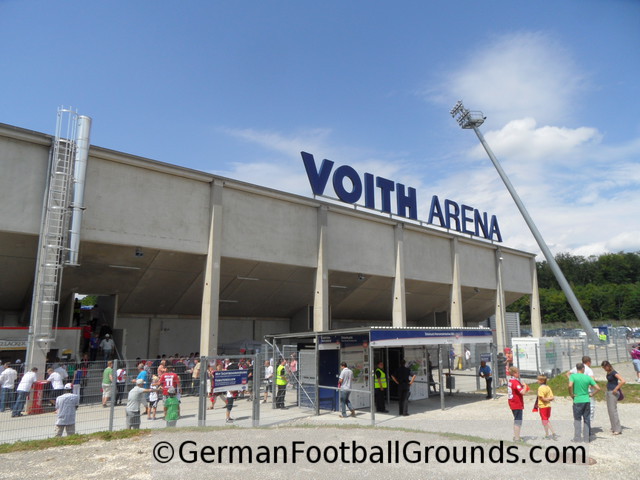 Overview
The Voith-Arena
For a long time, the Voith-Arena was an unfinished patchwork stadium, since September 2013, however, the south stand (opposite main) has been finished and the last open corners have been closed. The stadium now offers room for 13,000 spectators (4,000 seats) and this should be enough even if Heidenheim can manage to not get relegated from the 2. Liga.
The Voith-Arena is a pure footballing venue with 4 isolated stands. The east stand, home of the Heidenheim supporters, is standing space only, visiting supporters are located in the west stand ( seating and sitting space). The north stand is the main stand, opposite is the similarly sized south stand. The corners are, as said before, not open any more, also there are no stands in the corners, instead, 4 classical floodlights are located there.
Heidenheim supporters are located in block L in the east stand, visiting supporters in blocks E1 and E2.
How To Get There...
By Car & Where To Park
If you come by car, the address of the Voith-Arena is "Schloßhaustraße 162, 89522 Heidenheim an der Brenz", although there are only a limited number of parking spaces available at the stadium. Have a look at this document showing a list of available parking spaces and, if available, shuttle bus connections.
Personally, I prefer to look for a parking space in Paul-Hartmann-Straße (number 7 in the document above) and take a short walk from there, which is less than a mile long, although a bit steep going up the hill to the stadium.
By Public Transportation
The bus stop is about 110 yards to the right side when you leave the main station towards the city centre. Lines 6 (direction Heidenheim Klinikum) and 7 (direction Mergelstetten Stuttgarter Ring) take you to the stadium, the stop is Schloßhaustraße and a single trip is priced at 2.05€.
Walking directions
There are different ways you can take to walk to the stadium with varying distances. It might be worth your time to walk through the inner city and pass the castle, take note that the following directions just give you the most straightforward way, ignoring any sights, clocking in at around 1.4 miles.
From the main station, take a half left into Bahnhofstraße and follow it to its end after around 700 yards. Turn right onto St. Pöltener Straße and follow it until it takes a turn to the left. Follow the turn and immediately take the next right onto Im Flügel. After around 700 yards, you will reach an intersection with Katzental, turn right and head straight up the hill for around 600 yards and you will arrive directly in front of the stadium.
Admission Prices
The following prices are for regular matches in the 2. Liga. Buying online means you can get tickets up to 2.5€ cheaper.
Standing places:
Seats:

South stand - 22€
Main stand (blocks G,K) - 27.5€
Handicapped (block J) - 12€
Last updated 22.08.2014
Average Attendance
Heidenheim is playing its first ever season in the 2. Bundesliga in 2014/15, so the attendance is quite unpredictable. In the years before, in the 3. Liga, rarely a game was sold out, so usually you should not have problems to get tickets through Heidenheim's own ticket shop.
Season 2013/14: 9,032 (69.5%)
Season 2012/13: 8,026 (61.7%)
Season 2011/12: 6,742 (51.9%)
Season 2010/11: 5,981 (46.0%)
Last updated 22.08.2014, Source: http://www.transfermarkt.de/
Photos
Voith-Arena Location Map
Feedback
If anything's wrong on this page, you have more information or you just want to drop me a line, e-mail me at roland@germanfootballgroundguide.com.