comtech Arena, SG Sonnenhof Großaspach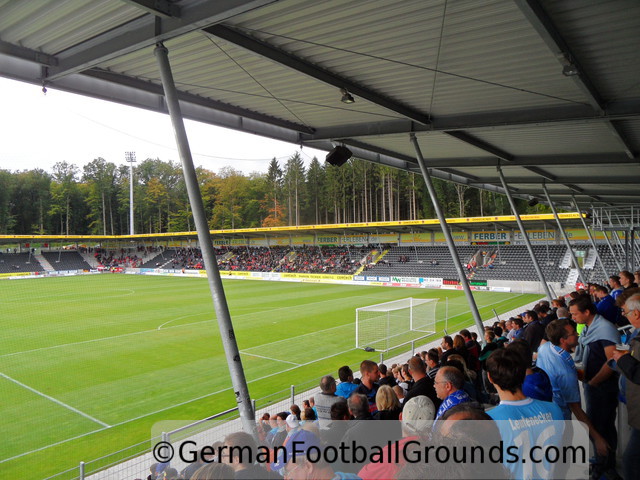 Overview
Club name: SG Sonnenhof Großaspach
Ground name: comtech Arena
Year ground opened: 2011
Capacity: 10.000
Web Site: http://www.sg94.de/
The comtech Arena
The comtech Arena is quite a sensible ground, adequate for the needs of SG Sonnenhof Großaspach, but without any great charm. It can accomodate up to 10,000 spectators and has been used for concerts as well as the state cup final or even a match of VfB Stuttgart in the Europa League qualification.
The stadium looks quite uneven as the main stand is much smaller than all other stands and runs only along a fraction of the side line. It's back is built into a log cabin like structure, which houses the restaurant "Wirtshaus Almstube", which you can visit 7 days a week, even on match days, maybe this is the closest thing to Fulham's cottage inside Craven Cottage in Germany. ;)
The other three sides of the stadium are continous and, just as the main stand, fully covered. Except for a part of the north stand and the corner between south stand and west stand (opposite main stand), the stands are fully seated. In contrast to the main stand the roof of all other stands is non-cantilevered, probably due to the simpler and thus cheapter nature of the roof construction.
Großaspachs supporters are located in the southwest corner of the stadium, visiting supporters in the north stand (both seating and standing space available).
How To Get There...
By Car & Where To Park
If you come by car, the address of the comtech Arena is "Im Fautenhau 1, 71546 Aspach".
There are around 2,000 parking spaces close to the stadium, however parking spaces P1 and P2 are only accessible if you have a permit, which you most likely will not. As the stadium fits 10,000 spectators, 2,000 parking spaces is not that much, if you are not arriving awfully early do not count on being able to park really close to the stadium but look for a parking space in Großaspach. Depending on where you can find a parking space, expect a walk of about a mile or more.
By Public Transportation
To be honest, reaching the comtech Arena via public transportation is painful and I strongly recommend coming by car. That said, you *can* reach the stadium with public transportation. Most likely, you will be coming from Stuttgart, so take an S-Bahn to Backnang; from the main station, take line S3 or S4 towards "Backnang", preferably the S3. From Backnang station, take the bus #367 towards the comtech Arena and leave the bus at the stop "Hohrot". Regulary, the bus should go at least every hour, the trip takes about 40 minutes, you can download the schedule here.
Walking directions
I don't know if it is really sensible to walk to the ground as there is not much to see nor is a great (but long) walk, but if you have some time on your hands and do not want to take the bus from Backnang (see section "By Public Transportation" above) or a taxi, here are walking directions. Be aware of the fact that the ground is about 4 miles away from the S-Bahn station Backnang, so factor in a bit more than an hour for one way.
On leaving the station, turn left into Erzwiesenstraße, which shortly after turns into Friedrichstraße for a little while. At the rundabout, head straight on into Aspacher Straße. Follow Aspacher Straße for about 1.5 miles, during which you will leav Backnang, pass under the B14 and finally arrive in Großaspach. The path takes you on a slight right into Großaspach and the road is now called Backnanger Straße. Follow this road about half a mile until you reach the intersection with Haupstraße/Strümpfelbacher Straße, take a left on Hauptstraße, at the first intersection head right into Heilbronner Straße and once more right into Jahnstraße. Follow this road to the first intersection going left (after about half a mile, there is an industrial estate on your right), turn left and head up the hill. Voilà, there you are after about half a mile more.
Admission Prices
The following prices were valid for season 2013/14 in the fourth division (Regionalliga Süd-West). Prices for the season 2014/15 should not be that much different, even though Großaspach is playing in the third division (3. Liga) then.
Standing places:
Seats:

Main stand (P, Q and R): 20€
Opposite main stand (G, H, I): 14€
Last updated 04.06.2014.
Average Attendance
Großaspach usually does not pull a great crowd, the average attendance is quite low but was in line with what is to be expected in the fourth division. For the season 2014/15, Großaspach has been promoted to the 3. Liga and you can expect higher attendance, especially for the derbys against Stuttgarter Kickers and VfB Stuttgart II.
Season 2013/14: 1,052 (10.5 %)*
Season 2012/13: 515 (5.2 %)*
Season 2011/12: 1,339 (13.4 %)**
*: Großaspach was playing in the Regionalliga Südwest (4th division) **: Großaspach was playing in the Regionalliga Süd (4th division) Last updated 04.06.2014, Source: http://www.transfermarkt.de/
Photos
comtech Arena Location Map
Comments