Frankfurter Volksbank Stadion, FSV Frankfurt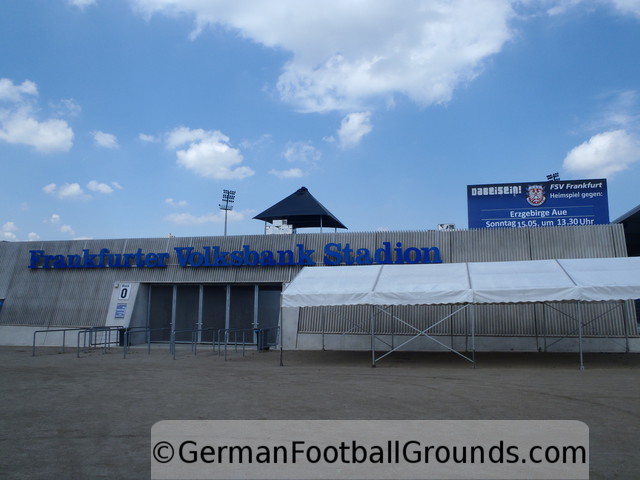 Overview
Club name: FSV Frankfurt
Ground name: Frankfurter Volksbank Stadion
Year ground opened: 1931
Capacity: 12,542
Web Site: http://www.fsv-frankfurt.de/
The Frankfurter Volksbank Stadion
The Frankfurter Volksbank Stadion, previously known, due to its location, as "Stadion am Bornheimer Hang", is the second-largest stadium in Frankfurt, but although being just second to Eintracht Frankfurt's Commerzbank Arena, the Frankfurter Volksbank Stadion is in a different league - of course not only figuratively but, at least currently, as well literally. The stadium offers room for 12,542 spectators, which is quite small, but more than enough for the crowds Frankfur usually pulls.
The main stand is the oldest stand, a fact you can guess because the roof is non-cantilevered and is supported by a number of stell pillars. The main stand itself is quite compact and covered not only by a roof but also on the back and on the sides, on which it connects to terraces. These terraces are uncovered, just as the whole north and south stand are, and are quite recent. The newest stand is the opposite main stand, which is much smaller than the main stand, but just as well fully covered, although it is open on the sides and in the back. Four huge floodlights are located in the corners of the stadium. All in all, the stadium is a nice, small venue with a good mix of old school charm (main stand and floodlights) and new features (terraces and opposite main stand).
FSV Frankfurt's supporters are loated in the south stand (blocks N, O), visiting supporters are located in the north stand (blocks F, G) and on the opposite main stand (visitor seating, blcok H).
How To Get There...
By Car & Where To Park
If you come by car, the address of the Frankfurter Volksbank Stadion is "Aachener Straße 999, 50933 Köln, Deutschland". There are virtually no parking spaces close to the stadium, but the "Festplatz am Ratsweg" (address: Am Bornheimer Hang, 60386 Frankfurt), is located in walkable distance to the stadium, directly to the south. An alternative is the P+R parking garage Borsigalle (address: Borsigallee 24a, 60388 Frankfurt), which is quite a walk away from the stadium but close to the U-Bahn U7's stop "Kruppstraße", so take an U7, direction Hausen, and exit at the third stop, "Johanna-Tesch-Platz/Volksbank-Stadion" and follow the direction of travel for about 200 yards down the road, where you can see the stadium on your right hand side.
By Public Transportation
From the main station, take S-Bahn S1, S2, S3, S4, S5, S6, S8 or S9 to stop "Hauptwache" / "Konstablerwache" or U-Bahn U4 / U5 to stop "Konstablerwache". Change into U7 (direction Enkheim), and exit at stop "Johanna-Tesch-Platz/Volksbank-Stadion". On leaving the U-Bahn, turn back into the direction the U-Bahn came from, the station is about 200 yards down the road on your right. Total travel time from the main station is less than 20 minutes.
As an alternative, you can take U-Bahn U4 (direction Enkheim) directly from the main station and exit the train at stop "Schäfflestraße", turn right onto "K870" and follow this road, U-Bahn tracks on the right hand side of the road, for about half a mile.
Match tickets allow you to use public transportation, so no worries here if you already got your ticket.
Walking directions
The Frankfurter Volksbank Stadion is located in the east of Frankfurt and the distance to the main station is about three and a half miles. I do not particularly recommend the walk, as the public transportation connection is quite good, although the first part brings you through Frankfurt's inner city and shows you some sights.
Leave the main station and, with the main station in your back, cross the road and head into the infamous Kaiserstraße. Head straight on, crossing a small park, with the new European Central Bank building to your right. When you come to a T-intersection, turn left, the road is still name Kaiserstraße, then changes into Roßmarkt. Once you reach Hauptwache S-Bahn station, turn right onto Zeil, Frankfurt's famous shopping street. Follow Zeil for just under a mile, passing by S-Bahn station Konstablerwache, until you reach a small, circular park (Alfred-Brehm-Platz). Turn left, head around the park and turn left onto Thüringer Straße. Follow the tram tracks, heading straight onto Wittelsbacheralle. Continue straight on after the end of the tram line for about 150 yards and head straight on into the small park on the opposite side of the road. Take the pedestrian bridge (Max-Bromme-Steig), which will take you directly to the front of the stadium.
Admission Prices
These are normal ticket prices, just for your orientation, ticket prices may vary.
Tickets can be obtained via FSV Frankfurt's online ticket shop.
Standing places:

South stand (FSV Frankfurt supporters): 10€
North stand (Visiting supporters): 10€

Seats:

Block M (opposite main, southeast corner): 15€
Blocks H, M (opposite main left and right): 21€
Blocks A, E (main stand outer): 27€
Blocks I, L (opposite main sides): 27€
Blocks B, D (main stand centre): 33€
Blocks J, K (opposite main centre): 33€
Last updated 15.01.2015
Average Attendance
Although the Frankfurter Volksbank Stadion offers room for only around 12,500 spectators, this is more than adequate for the needs of FSV Frankfurt, which does not really pull in huge crowds, even though the FSV has established itself as a constant in the 2. Bundesliga. FSV bascially does not sell out the stadium, except on rare occasions, so no worries in obtaining a ticket.
Tickets can be obtained via FSV Frankfurt's online ticket shop. FSV Frankfurt does not cooperate with Viagogo and you should never need it, but if a match is sold out you can try your luck there.
Season 2013/14: 6,288 (50.1%)
Season 2012/13: 5,354 (42.7%)
Season 2011/12: 7,891 (62.9%)
Season 2010/11: 4,121 (32.9%)
Last updated 15.01.2015, Source: http://www.transfermarkt.de/
Photos
Frankfurter Volksbank Stadion Location Map
Feedback
If anything's wrong on this page, you have more information or you just want to drop me a line, e-mail me at roland@germanfootballgroundguide.com.