ESPRIT arena, Fortuna Düsseldorf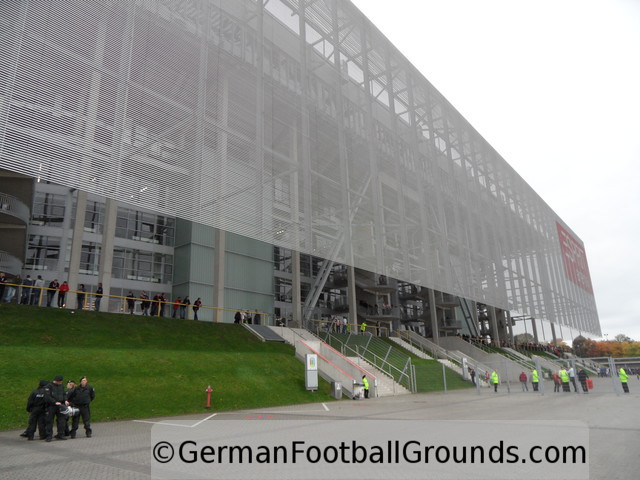 Overview
The ESPRIT arena
The ESPRIT arena, previously known as LTU arena, is relatively new stadium, having been opened only in 2005 when it replaced the previous home of Fortuna Düsseldorf, the Rheinstadion. The ESPRIT arena is basically located on the same spot, just a tad further north than the Rheinstadion.
The ESPRIT arena is not just a football stadium but also a multi-purpose hall, as the roof can be fully closed. This results in the stadium being used for various events apart from football, for example concerts, TV events, the German Hockey League's "Winter Game" or the Race of Champions.
As nice as this all is, the ESPRIT arena is not a very striking stadium. From the outside, it looks kind of weird due to the facade consisting of aluminium tube, on the inside it is a quite spacious, two-tiered stadium, of course fully covered and, as already said, with a roof that can be closed. The most prominent feature may be the multi-colored seats, which result in the stadium appearing to be crowded even when attendance is low.
The whole stadium is seating space, apart from the lower tier in the south and the corner in the northeast; Düsseldorf's supporters are located in the south stand, visiting supporters are located in the northeast corner.
How To Get There...
By Car & Where To Park
If you come by car, the address of the ESPRIT arena is "Arena-Straße 1, 40474 Düsseldorf". If your satnav does not this road, try "Am Staad" or "LTU-arena-Straße", which should be fine. There are about 20,000 parking spaces available at the stadium, just follow the signs towards P1 and be ready to shell out 5€.
Coming soon.
By Public Transportation
The ESPRIT arena is easily reached with public transportation, from the main station just take underground U78, which starts/ends there, so there is only the direction of "D-ESPRIT arena/Messe Nord" and the final stop is the one you want. Travel time is about 17 minutes and the underground station at the stadium is located directly besides the southeast corner. A single ticket is priced at 2.6€ but note that match tickets include travel to and from the stadium inside the whole VRR.
Walking directions
I cannot recommend walking to the stadium as it is located more than 4 miles away from the main station, but nonetheless, if you have about 90 minutes time on your hands and do not know what else to do, follow these directions.
Leave the main station towards the city center, take a right onto Karlstraße and an immediate left onto Immermannstraße. Follow Immermannstarße for around half a mile and continue, turning slightly to the right, onto Berliner Allee. Follow the road, which changes names a couple of times, for about one and a half mile, bascially walking parallel to the U-Bahn until you reach the U-Bahn stop Golzheimer Platz. Here, take a left onto Golzheimer Platz and turn right at the next corner onto Cecilienallee. Continue straight on, all the while having the Rhine to your left, for about one and a half miles and you can see the stadium to your right.
Admission Prices
These are normal ticket prices, just for your orientation. The ticketing map is quite complex, so have a look at the corresponding website.
Tickets can be obtained via Fortuna Düsseldorf's online ticket shop.
Standing places:

Standing space Fortuna Düsseldorf (lower tier): 13€
Visiting supporters (lower tier): 13€

Seats:

Visiting supporters (upper tier): 20€
Family area: 17€
South stand upper tier: 17€
North stand upper tier: 20€
Corners (lower tier): 22€
North stand lower tier: 25€
Main stand upper tier outer / opposite main stand upper & lower tier outer: 27€
Main stand upper & lower tier / opposite main stand upper & lower tier: 33€
Main stand lower tier / opposite main stand lower tier rows 1-10: 40€
Main stand center lower tier / opposite main stand center lower tier center rows 1-10: 46€
Last updated 13.01.2015
Average Attendance
The ESPRIT arena is quite spacious, offering room for over 50,000 spectators. In the 2. Bundesliga, the stadium is practically never sold out, at most for a single game per season. Even when Düsseldorf played in the Bundeseliga again for the first time after 15 years, only a third of the home games were sold out, so usually there should not be a problem in getting a ticket for a home match.
Tickets can be obtained via Fortuna Düsseldorf's online ticket shop. Fortuna Düsseldorf does not cooperate with Viagogo, but if a match is sold out you can try your luck there.
Season 2013/14: 33,984 (62.2%)
Season 2012/13: 46,097 (84.4%)*
Season 2011/12: 32,036 (58.7%)
Season 2010/11: 21,287 (38.9%)
*: Fortuna Düsseldorf was playing in the 1. Bundesliga
Last updated 14.01.2015, Source: http://www.transfermarkt.de/
Photos
ESPRIT arena Location Map
Comments