Stadion an der Gellertstraße, Chemnitzer FC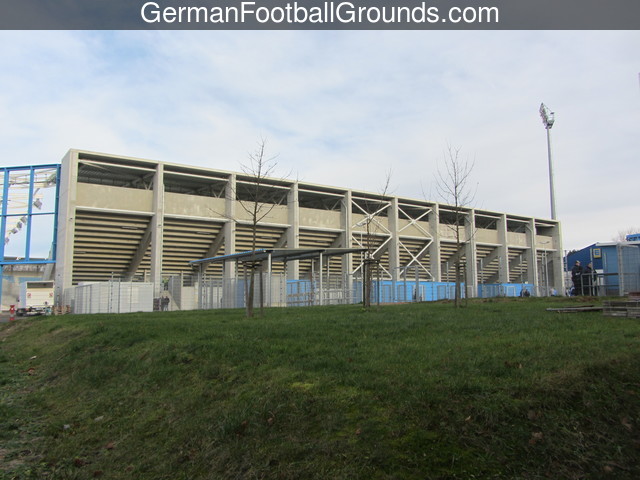 Overview
Club name: Chemnitzer FC
Ground name: Stadion an der Gellertstraße
Year ground opened: 1933
Capacity: 18,700
Web Site: http://www.chemnitzerfc.de/
The Stadion an der Gellertstraße
The Stadion an der Gellertstraße has been rebuilt while matches took place in it, offering a capcity of at least 10,000 during that time. Nowadays, it offers room for 18,700 spectators and is a pure football venue that is, of course, fully covered. The floodlights remain from the previous stadium, all other stands have been rebuilt from the ground up. All stands are basically on their own, with open corners, although there is some protection to the elements in each corner. The main stand features an executive section in the middle and some executive boxes at the top and is an all-seater stand, as is the opposite side stand. The south stand, on the eponimous Gellertstraße, is terraced, while the north stand has a terraced section and seats on the remainder.
Chemnitz supporters are located in the south stand of the stadium, visiting supporters on the opposite side in the north stand.
How To Get There...
By Car & Where To Park
If you come by car, the address of the Stadion an der Gellertstraße is "Gellertstraße, 09130 Chemnitz".
There is no parking lot available at the stadium, however there are parking spaces available in the business park "Planitzstraße" (Google Maps link), which is located just to the east of the stadium. Otherwise, just try your look in the residential area to the south of the stadium, but be careful to respect road traffic regulations.
By Public Transportation
From Chemnitz main station, take bus 51 direction "Zeisigwald-Klinik" or "Yorckgebiet" to stop "Stadion Gellertstraße". Trip time should be about ten minutes.
Note that match tickets do not allow free travel using public transportation.
Walking directions
The stadium is easily reachable by foot, as it is less than one and a half miles away from the main station.
Leave the main station and turn left, walking down Bahnhofstraße with the railway tracks to your left. At the first intersection, turn left, then left again at the first opportunity after crossing the railway tracks into Dresdener Straße. Follow Dresdner Straße, with the tracks on your left hand side again, pass by the back side of the station and follow the road as it turns right. As the road turns left, after about a thousand yards, there is a small strip of green and a road directly beside it to the right. Follow this road, Hainstraße, which basically means continuing in the same direction as before. Once you reach the second intersection, after about 400 yards, turn right into Gellertstraße, the stadium is about 350 yards straight on.
Admission Prices
Standing places:
Seats:

Category 01 (main and opposite, centre) - 25€
Catgeory 02 (main and opposite, betwenn cat. 01 and 03) - 22€
Catgeory 03 (north centre, main and opposite outer sides) - 19€
Catgeory 04 (northwestern corner) - 16€
Last updated 01.02.2016
Average Attendance
Chemnitzer FC's stadium is more than adequate for the usual attendace, only about one league game every couple of seasons is sold out, so no worries in procuring a ticket. Tickets can be obtained from Chemnitzer FC's online ticket shop.
Season 2013/14: 5,808 (31.1%)
Season 2013/14: 5,142 (27.5%)
Season 2012/13: 4,653 (24.9%)
Season 2011/12: 5,718 (30.6%)
Season 2010/11: 4,052 (21.7%)
Last updated 01.02.2016, Source: http://www.transfermarkt.de/
Photos
Stadion an der Gellertstraße Location Map
Feedback
If anything's wrong on this page, you have more information or you just want to drop me a line, e-mail me at roland@germanfootballgroundguide.com.