Weserstadion, Werder Bremen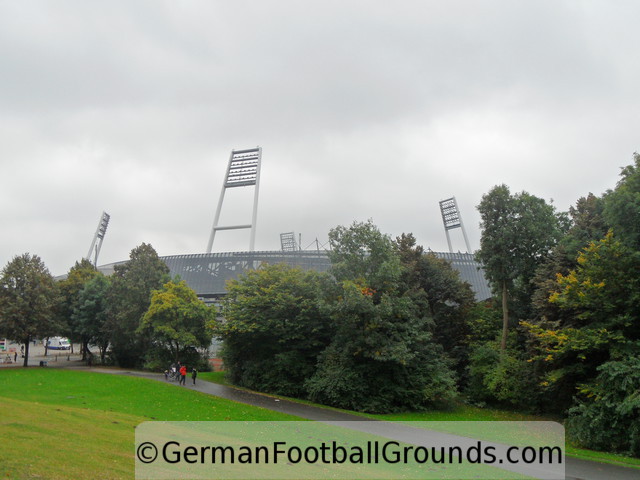 Overview
Club name: Werder Bremen
Ground name: Weserstadion
Year ground opened: 1947
Capacity: 42,500 (37,441 internationally)
Web Site: http://www.werder.de/
The Weserstadion
The Weserstadion's most outstanding characteristic is probably its location in the Pauliner Marsch, a local recreation area, and directly on the banks of the river Weser. The stadium is located so low, that in 2013 cyclone Xaver threatened to flood the stadium. Thankfully, this did not happen, as the water stopped rising around 10 inches before the critical height.
Bremen had high-flying plans for an extension to the Weserstadion, which in 2008 accomodated around 40,000 spectators. It was planned to add a third tier to the stadium, remove the iconic floodlights and increase the capacity to around 50,000 spectators. Due to ever rising costs even before construction was started, it was decided to realize a more moderate renovation, which resulted in the pitch being lowered and the curves being straigthened and moving more closely to the pitch. The roof and facade have been modified as well and especially the facade, which now is equipped with lots of solar cells, looks quite unusual.
On the inside, the Weserstadion is a pure football stadium and features two tiers which both run around the whole stadium. Since the removal of the race track and the removal of empty space in front of the curves, it is reasonably compact, but apart from the iconic floodlights it lacks distinctive features.
Bremen supporters are situtated in the east (Ostkurve), standing space is in block 122 to 142, which comprise the whole lower tier. Visiting supporters are located on the opposite side in the upper tier,block 101 to 103 and, depending on demand, blocks 107 to 113.
How To Get There...
By Car & Where To Park
If you come by car, the address of the Weserstadion is "Franz-Böhmert-Str. 7, 28205 Bremen", however this is basically useless information as the area around the stadium is basically locked down befor the game. If you arrive more than three hours before kick-off, you might be able to find a parking spot close to the stadium and slightly to the north of it, otherwise your best bet is to pick one of Bremen's many Park and Ride parking lots. Both Hemelinger Hafendamm and Hansator / Überseestadt are a good pick.
By Public Transportation
From the main station or the city centre, take tram 10 towards Sebaldsbrück and exit at the station "St.-Jürgen-Straße". Turn right into Lüneburger Straße and at the end of the street turn left on Osterdeich, from where you have about 300 yards left to the stadium. All in all, the trip from the main station shouldn't even take you 20 minutes.
By Sea
You read that right, you can travel via ship to the Weserstadion as well, for example from the city centre. Check the ferry companies home page for more information.
Walking Directions
The Weserstadion is located around two miles away from the main station and merits a walk which will take you through the city center and the Osterdeich, a street that is laced with pubs and bars.
Leave the main station and head southwards, with the station in your back. Either via Bahnhofstraße or Herdentorsteinweg, you will reach Herdentor and enter a pedestrian area. Continue straight ahead onto Sögestraße until you reach Obernstraße, then turn left. Note that you are at the town hall now, where you can find both the Bremen Roland and a statue of the Town Musicians of Bremen.
From the town hall it's basically a nearly straight walk to the stadium. Continue on Obernstraße, leaving the town hall to your left, which turns into Am Dom, Domsheide and Ostertorstraße. After you pass the municipal library to your left, the street turns into Am Wall, then changes into Ostertorsteinweg and Vor dem Steintor. Continue until you reach the intersection with Lünerburger Straße, where the aptly named Werder Imbiss, a snack bar, is located; this is also the place you will arrive at with the tram, St.-Jürgen-Straße. Turn right and when the street ends after around 250 yards, turn left onto Osterdeich. From there, it's only about 250 yards more to the Weserstadion.
Admission Prices
These are normal ticket prices for Bundesliga matches, just for your orientation. There are a couple of games with slightly lower prices (versus Augsburg and Nürnberg) and a couple more with slightly higher prices (versus Bayern, Dortmund, Schalke and Hamburg), you can either save or have to pay extra around 5€.
Standing places:

Ostkurve Unterrang (East lower) - 13€

Seats:

Westkurve Unterrang (West lower) - 25€
Westkurve / Ostkurve Oberrang (West and East upper) - 38€
Nordtribüne and Südtribüne Seite Unterrang (North and South, lower front rows, side) - 38€
Nordtribüne and Südtribüne Seite Ober- und Unterrang (North and South, upper and lower, side) - 43€
Nordtribüne and Südtribüne Mitte Unterrang (North and South, lower front rows, centre) - 43€
Nordtribüne and Südtribüne Mitte Ober- und Unterrang (North and South, upper and lower, centre) - 55€
Last updated 23.01.2014
Average Attendance
Bremen's performance has declined in the recent years, the season 2009/10 was the last one where they could qualify for the Champion's League and since then they have missed to qualify for the European competitions. Still, the average attendance is high and many home games are regularly sold out. Games against Bayern, Dortmund and Schalke can be expected to take place in front of a sell-out crowd, as can the "Nordderby" against Hamburger SV.
Bremen does not require membership for tickets, so you should usually be able to order them through Werder Bremen'ss ticket shop. If a game is sold you might of course still try your luck on Viagogo but Werder Bremen does not officially cooperate with Viagogo.
Season 2010/11: 37,176 (88.3%)*
Season 2011/12: 40,749 (96.8%)
Season 2012/13: 40,704 (96.7%)
Last updated 24.01.2014, Source: http://www.transfermarkt.de/
Photos
Weserstadion Location Map
Feedback
If anything's wrong on this page, you have more information or you just want to drop me a line, e-mail me at roland@germanfootballgroundguide.com.