Rewirpowerstadion, VfL Bochum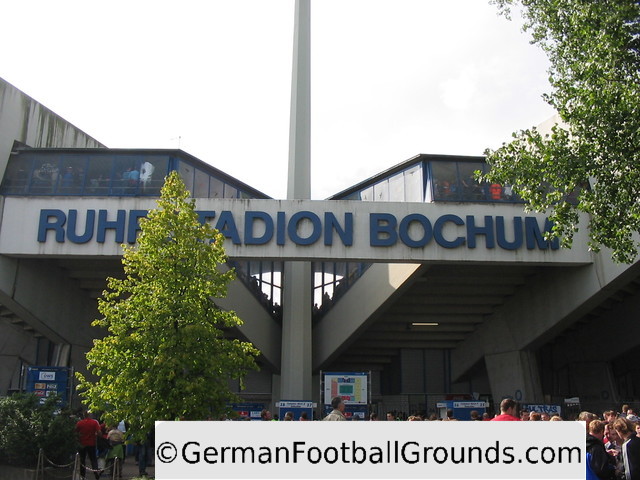 Overview
Club name: VfL Bochum
Ground name: Rewirpowerstadion
Year ground opened: 1911
Capacity: 29,299 (23,500 internationally)
Web Site: http://www.vfl-bochum.de/
The Rewirpowerstadion
The Rewirpowerstadion, previously known as Ruhrstadion, is a pure football venue and thus offers excellent view throughout the whole stadium. This is as well due to the fact that the stadium's roof is self-supporting, from the outside the roof construction gives the stadium a distinctive look, as do the four iconic floodlights located behind the stadium's corners. The stadium is single tiered and fully covered and the corners are closed, which gives the stadium a nice, tight atmosphere. The east stand is fully terraced, the rest of the stadium is, apart from the small terrace for visiting supporters, seating space.
VfL Bochum's supporters are located on the east stand, visiting supporters are located on the south side of the west stand.
How To Get There...
By Car & Where To Park
If you come by car, the address of the Rewirpowerstadion is "Castroper Straße 146, 44798 Bochum".
There are no parking spaces directly at the stadium, it is recommended to use the car park Stadionring (Stadionring 26, 44791 Bochum, incurs a fee). Another option is to park somewhere along the tram line, preferably direction out of town, and then just take a tram to the stadium.
By Public Transportation
Reaching the Rewirpowerstadion by public transportation is as easy as can be. From Bochum main station, take tram 308 or 318, direction Bochum Schürbankstraße, and leave the tram at the stop aptly named rewirpowerSTADION. Travel time is usually only three minutes, but account for delays close to the game.
Take note that tickets allow you free travel to and from the game on match days inside the huge Rhein-Ruhr traffic association (Verkehrsverbund Rhein-Ruhr, VRR).
Walking directions
The stadium is easily reachable by foot, regardless of your starting point being the main station or the city centre. Leave the main station towards the city centre and turn right onto Ostring. Follow Ostring as it turns 90 degress to the left, then turn right at the next t junction, passing under the railway bridge, onto Castroper Straße. Head straight on for about three quarters of a mile and you will find the stadium to your left. All in all the distance from the main station is just shy of a mile.
Admission Prices
These are normal ticket prices, just for your orientation, ticket prices may vary. For details on the 2014/15 ticketing situation, check this document.
Tickets can be obtained via VfL Bochum's online ticket shop.
Standing places:

East stand (blocks N2, O, P, Q): 12€
Visiting supporters (west stand, block E1): 13€

Seats:

North stand centre (blocks K, L): 37€
North stand outer (blocks I, M): 34€
North stand outer (blocks N1, I, M ): 29€
South stand centre (blocks B, C): 37€
South stand outer (blocks A, D): 27€
Visiting supporters (west stand, blocks E2, F): 19€
Handicapped (north stand, includes companion) : 8€
Last updated 13.02.2015
Average Attendance
The Rewirpowerstadion allows for nearly 30,000 spectators, which is plenty for a 2. Bundesliga ground. While the ground was sold out a couple of times per season when VfL Bochum was playing in the 1. Bundesliga, in the 2. Bundesliga it is quite rare to see the stadium being sold out.
Tickets can be obtained via VfL Bochum's online ticket shop. VfL Bochum does not cooperate with Viagogo, but if a match is sold out you can still try your luck there.
Season 2013/14: 16,168 (55.2%)*
Season 2012/13: 14,516 (49.5%)*
Season 2011/12: 13,802 (47.1%)*
Season 2010/11: 15,030 (51.3%)*
Last updated 13.02.2015, Source: http://www.transfermarkt.de/
Photos
Rewirpowerstadion Location Map
Feedback
If anything's wrong on this page, you have more information or you just want to drop me a line, e-mail me at roland@germanfootballgroundguide.com.